Edmund Muskie Oral History Project completed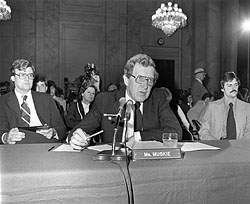 Edmund S. Muskie's alma mater has completed a project that tells the late U.S. statesman's story in the voices of those who knew him.
Begun in 1997, the Edmund S. Muskie Oral History Project at Bates College comprises some 440 interviews with people who worked with, otherwise knew or were directly affected by Muskie. A native of Rumford, Maine, and member of the Bates class of 1936, Muskie went on to become Maine governor, U.S. senator, U.S. secretary of state and a candidate for the White House.
The interviews are preserved on audio media and in print transcriptions edited and indexed by project staff. They are kept in the Edmund S. Muskie Archives and Special Collections Library at Bates, joining a Muskie documentary collection that is among the largest U.S. political collections outside the presidential libraries.
"The interviews provide many perspectives on Edmund Muskie as a public and private figure — as well as a sense of the times, a feeling for the issues with which he was associated and a mosaic of his friends, colleagues, staff and opponents," says Don Nicoll, project director and a longtime friend of Muskie's.
The materials are open not only to Bates students and faculty, but to any researchers studying Muskie and the issues in which he was involved.
The interviews "fill in the gap in the written record," says Nicoll. "Many also provide clues that lead to important incidents or developments in public policy, or help us to understand what lay behind the plain text of committee reports or memoranda."
"They give insights into Muskie's personality and character that might otherwise elude us," he adds. "We've worked hard to be sure the record contains favorable, neutral and unfavorable views of Senator Muskie. We aimed to illuminate his life, not glorify it."
"When I began on this project, I knew Senator Muskie's biography pretty well, but what I've learned over the years from innumerable anecdotes really illustrated his character and personality," says project assistant Andrea L'Hommedieu, who conducted many of the oral history interviews and is now working on an oral history of Bates.
Though a Maine native, L'Hommedieu was surprised to learn that Muskie's Blaine House run in the 1950s did more than make him governor. Muskie, along with Nicoll and Bates alumni Frank Coffin and John Donovan, belonged to an innovative group that gave new life to a Democratic Party long out of power in Maine.
"Muskie was so extraordinary, and so very human at the same time, that you couldn't help not only to admire him, but to strive to be more like him in his civic-mindedness," says L'Hommedieu, who points to Muskie's pioneering role in creating U.S. environmental law. "I'm much more aware of my civic responsibilities, and more active in volunteer organizations, since the project began."
Interviewees include Muskie's friends from throughout his life, college contemporaries, Maine legislators, political associates and competitors, journalists, campaign supporters, gubernatorial and Senate staff, Senate colleagues, public officials, lobbyists, State Department officials, foreign-policy specialists, law practice associates and citizens associated with Muskie in myriad ways.
Among them are former Maine Gov. Kenneth Curtis, former Maine attorney general James Tierney and Howard Baker, until recently U.S. ambassador to Japan.
Nicoll first got to know Muskie in 1954, when Nicoll became the first full-time executive secretary of the Maine Democratic Party. He worked on Muskie's two gubernatorial campaigns and his 1958 senatorial race, and later served as his news secretary, legislative assistant and administrative assistant in the Senate. The two remained close friends and colleagues until Muskie passed away in 1996.
Nicoll calls the oral history project, taken together with the Muskie documentary holdings at Bates, "a gold mine for anyone studying a wide range of political, legislative and international issues affected by the man who was one of the most versatile and formidable legislators in the history of our country."
"This has been an unalloyed treat for me," Nicoll says. "I've had an opportunity to contribute to an important modern historical record and have been able to refresh my memory — and, in some cases, to correct my recollections. And I've had numerous chances to visit with friends and former colleagues, and to gain a new appreciation of fine people I knew years ago only as antagonists."
Although some editorial work remains to be done, the project's official end came in December. The $225,000 project has been funded by the Edmund S. Muskie Foundation.