Work by students, alumna drives exhibitions at Bates College museum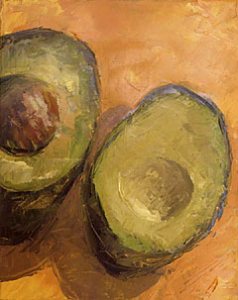 Exhibitions now at the Bates College Museum of Art revolve around the efforts of Bates College art majors — four who will graduate this spring and one alumna.
The Senior Exhibition, continuing through May 29, displays work in a variety of media by studio art majors Elizabeth Brin of Barrington, R.I.; Ryan Heffernan of Napa, Calif.; Rachel Starr of Austin, Colo.; and Tiffany Tropino of Huntley, Ill.
Open through May 7, Early French Photography: Art and Industry is an exhibition curated from the museum's collection by Britt Eilhardt. Eilhardt graduated from Bates in December and is now on staff at The Cloisters, in New York City, a branch of the Metropolitan Museum of Art devoted to the art of medieval Europe. She gives a talk about the exhibition at 11 a.m. Friday, April 29, in the museum's Seminar Gallery. (A second alumna, Darsie Alexander '88, discussed her career in art at the opening for the two exhibits.)
Brin, Heffernan, Starr and Tropino cap their Bates careers with the popular Senior Exhibition, which highlights work selected from the thesis projects of graduating studio art majors. The program emphasizes the creation of a cohesive body of works through sustained studio practice and critical inquiry.
Brin's acrylic and oil paintings use words that surround the Iraq war. After following the news and talking to people here and abroad about the war, she chose words that seemed important. She has explored various ways of writing the words on canvas and how color and paint application heighten the emotional tenor of the paintings.
"My work is a collection of voices," she writes in an artist's statement. "Some paintings speak with one voice, while others have several. The ambiguity of this work is important to me."
Heffernan offers a series of photographs that focus on strong images found throughout everyday life in Lewiston. The exhibit represents the culmination of his development as a photographer and student at Bates. Heffernan, who contributed a photographic essay on Lewiston's Somali community to the college's alumni magazine in 2003, will continue his photographic studies in Santa Fe, N.M., this summer.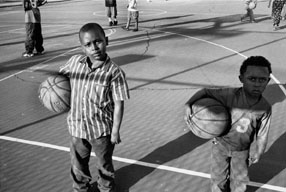 Starr paints still lifes that explore flat and modeled form and varying degrees of representation and abstraction. "I want my paintings to be in dialogue with art history, and I also want them to be contemporary," she writes. "More importantly, I want my paintings to share the pleasure I find in color and the beauty I find in simple things."
Painting in oil on canvas, Tropino began working toward making colorful large-scale floral images last September. "It is the painting traditions associated with flowers that have kept me with them for this long," she writes. "Throughout the year I have looked at the ways artists over different time periods and from different cultures have treated flowers, and tried to learn from them."
For nearly three years, Early French Photography curator Britt Eilhardt interned in the Bates College Museum of Art. The exhibition, she explains, came about after director Mark Bessire asked her to go through the museum's photography collection.
"I found that the museum had a small but concentrated group of French photographs from the 19th century," she says. "It came to my attention that there were consistent themes being portrayed in these images: whether or not photography should be considered an art, the competition between photography and lithography, and the implications of the spread of photography."
Bill Low, the museum's assistant curator, invited her to turn her findings into an exhibit. The result is Early French Photography.
"I thoroughly enjoyed working with the collection," she adds. "The museum has some really wonderful pieces that should be discovered by Maine museum-goers."
Eilhardt's work with the exhibition is part of a new series called "Students in the Vault." Alexander's talk is the second in the Bates "Alums in the Arts" lecture series. Both are sponsored by the Friends of the Museum. The museum is open 10 a.m.-5 p.m. Tuesday-Saturday and is closed Sundays and major holidays. For additional information call 207-786-6158 or visit the museum Web site.
View Comments