Bates ranked No. 1 'Best Value' by Princeton Review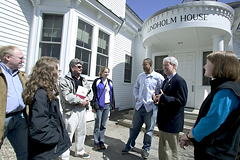 Bates College is the nation's "best value" college, The Princeton Review announced April 18. The New York-based education services company features the school in its "Top 10 Best Value Colleges" ranking list in the 2006 edition of its book, America's Best Value Colleges, which goes on sale April 19, 2005.
According to a news release from The Princeton Review, the guide profiles 81 colleges with outstanding academics, generous financial aid packages and relatively low costs. It includes public and private colleges and universities in 35 states. Last year, Bates was ranked No. 5.
"It is always gratifying to be placed at the top of anyone's top-10 list, especially when it is recognition of the value of a Bates education," said Bates Dean of Admissions Wylie Mitchell. "The Princeton Review sent us a copy of their news release, and they indicated that the ranking is based on about 30 factors in four categories: academics, tuition, average financial aid offers and student borrowing. I don't know this, but I assume two factors that may have stood out are the fact that we generally don't reduce our financial aid scholarships when students receive outside scholarships, and another may be our relatively low average student indebtedness at graduation."
"While methodologies of the college guides can always be debated, there is a significant convergence of outside opinion about Bates," said Bill Hiss, Bates vice president for external affairs. "At the same time that Bates is being ranked No. 1 in the country in Princeton Review's "Best Value" list, we have ended up on other interesting lists: We are ranked 19th of the 420 colleges evaluated in the rankings of the best Division III athletic programs by NCAA athletic directors, and we are among 81 colleges designated "Colleges with a Conscience: 81 Great Schools with Outstanding Community Involvement" by Princeton Review and Campus Compact.
"I would add that we are normally in the top 10 among the 3,400 colleges and universities in the United States for percentage of students who do international study," Hiss said. "And we have been on the U.S. News & World Report's "Top 25 National Colleges" list for 10 years in a row now. Individually, these rankings all have holes of one sort or another. But collectively, they seem interesting and accurate to me, in that Bates seems to do a lot simultaneously in fields that often run at cross purposes to one another, such as varsity athletes doing international study or serious service-learning at the same time that they are writing an honors thesis."
The Princeton Review said it compiled the "best values" ranking list and chose the colleges for the book based on data the company obtained from administrators at more than 350 colleges, and surveys of students attending them.
More information is available at The Princeton Review Web site.
View Comments