"I ultimately want to go into sustainable business, working on supply-chain logistics and making them greener," says Tamsin Stringer '22 of Bloomington, Ind.
Bates' Green Innovation Grant program, Stringer adds, has given her a real-world reminder of what it will take to succeed in that work.
A member of the EcoReps, Bates' student sustainability corps, Stringer has been involved with a multiyear effort to replace restroom paper towels at Bates with electric hand dryers. In applying for Green Innovation Grants to support that campaign, the EcoReps have taken pains to quantify the downsides of paper towels — their cost, the amount of waste they generate, and the staff hours that go into refilling dispensers and emptying waste receptacles.
Working with those numbers "has really given me a sense of the work that you have to do, to get that evidence and to do that research, in order to change structures that are supposedly unchangeable," Stringer says.
The Green Innovation Grants, aka GIGs, are relatively small sums awarded to Bates students, staff, and faculty for projects that make Bates more environmentally sustainable — often in surprising ways.
For its fourth year, the program funded seven projects, ranging from $150 for helping birds avoid window collisions to the total of $3,600 for two proposals for supplanting paper towels with electric dryers.
The GIG program was designed to encourage Bates folks, especially students, to become active stakeholders in advancing sustainability at the college. "The opportunity to have some ownership of how the college runs, even in small ways, can give students the power to feel like they can address larger issues," says Emma Wheeler '20 of Bergen, Norway, who with Stringer proposed one of the hand dryer projects.
"At Bates, just because it's such a close-knit, smaller community, this kind of funding — while it may seem small compared to other schools — and these projects have a much larger impact campus-wide," says Stringer. "We feel the impact of every single project."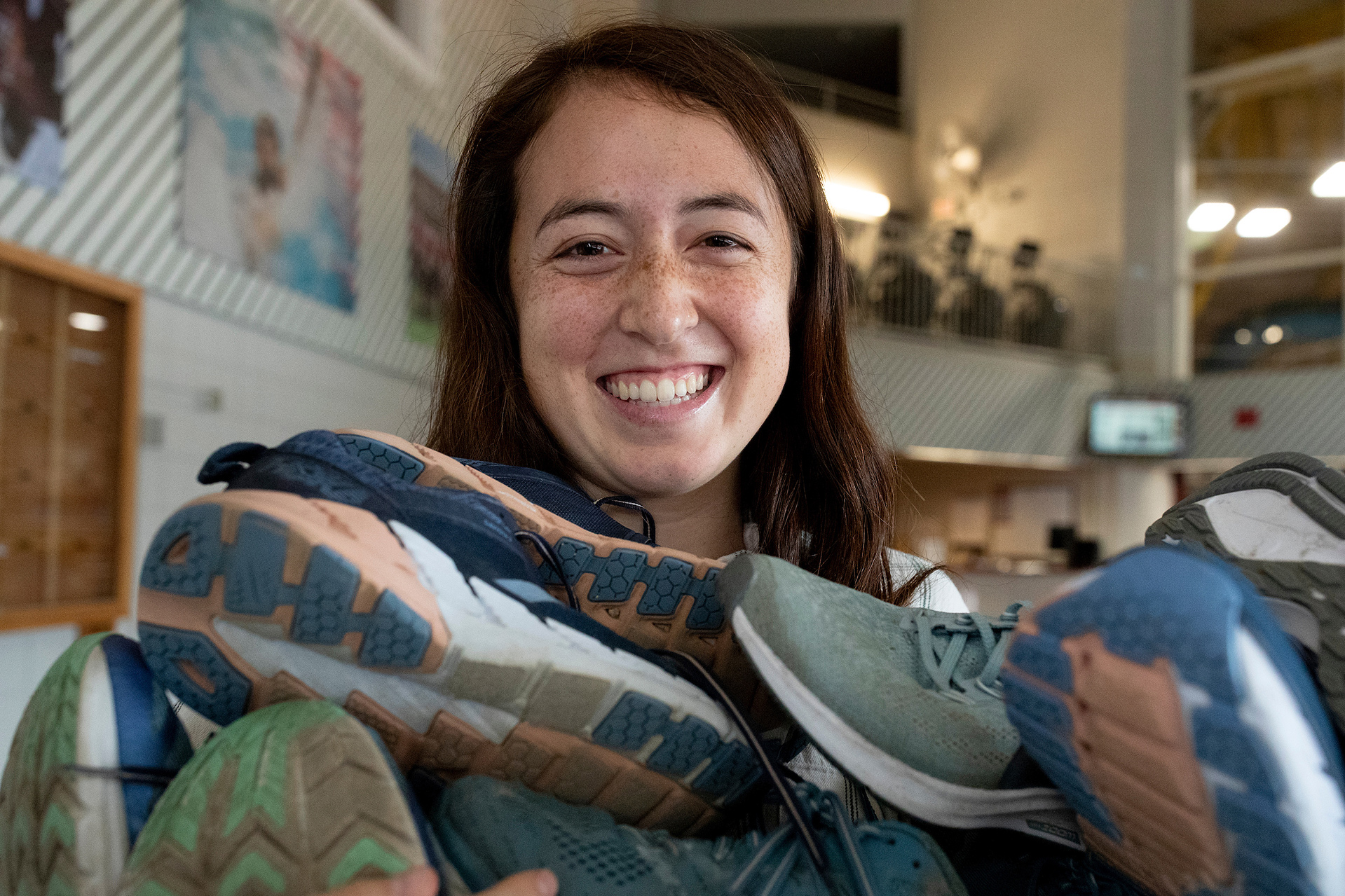 Tom Twist, Bates' sustainability manager, points out a few themes that this round's successful projects, all of which were proposed by students, have in common. One is attempting to mitigate the campus waste stream. In particular, as they have in past years, students are showing a strong interest in finding ways to recycle problematic items.
One of the most eye-opening ideas came from Henri Emmet '21 of New York City. He received a $240 grant to establish a means of recycling a notoriously hard-to-recycle waste material, plastic foam such as Styrofoam. Emmet's solution: raising larvae of the beetle species Zophobas morio, which not only eat foam but are nourished by it and reduce it to harmless organic matter.
An environmental studies major and member of Bates' track and cross country teams, Carly Harris '22 of Orinda, Calif., proposed a collection box for worn-out athletic shoes in Merrill Gym. Once filled, the box will go to a company that deals with tough-to-recycle products. Previous GIGs have paid companies such as TerraCycle, of Trenton, N.J., to recycle nitrile gloves and wrappers from snack foods such as chips and energy bars.
Shoes, Twist explains, tend to be what recycling experts call "monstrous hybrids" — they combine different types of material in a way that makes recycling them difficult and expensive. Harris' program, he says, "is nice because it funds the dissection of your typical shoe so that it can be recycled."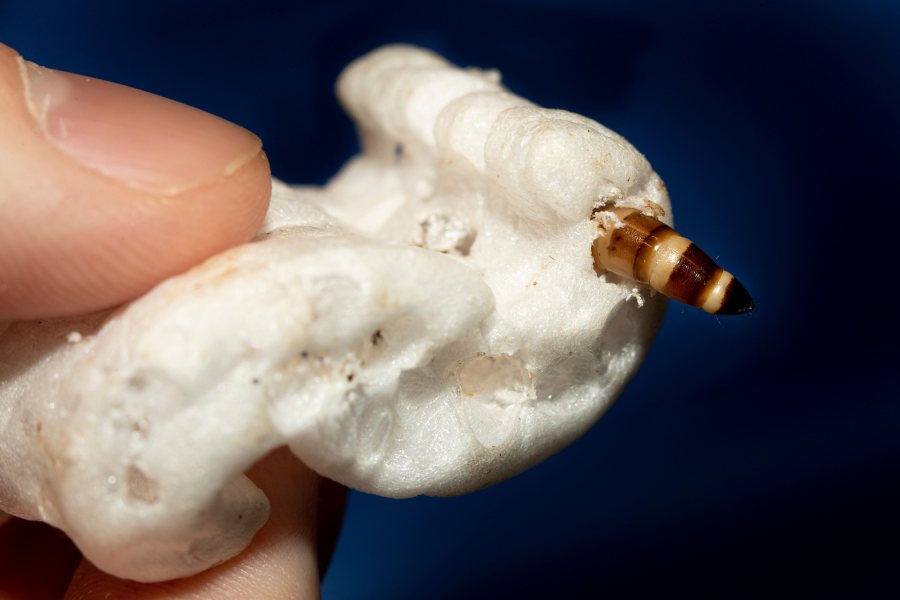 Harris finds that she goes through about four pairs of athletic shoes annually. And according to her GIG proposal, Bates' 850 or so student athletes each year use up at least 1,000 pairs of athletic shoes, which have historically ended up in the landfill.
This year's grants also demonstrate that "students are really getting more involved in the infrastructure of campus," says Twist. He adds, "That's what we had hoped would happen" with the program. "It shows a sophistication on their part to start to look at the built environment and how to change it."
For instance, four students proposed the installation of bathroom light controls in the three dorms of the Residential Village. Apparently designed to be lit 24/7 when the dorms were built, in the early 1990s, the bathrooms were never equipped with on-off switches.
Meanwhile, Mia Shifrin '23 of Weld, Maine, and Amelia Keleher '21 of Corrales, N.M., members of the EcoReps' campus garden group, received some $1,500 for facilities at the college's vegetable garden that will make the space more useful for informal and formal education. This will help realize an early goal for the garden, aka The Plot.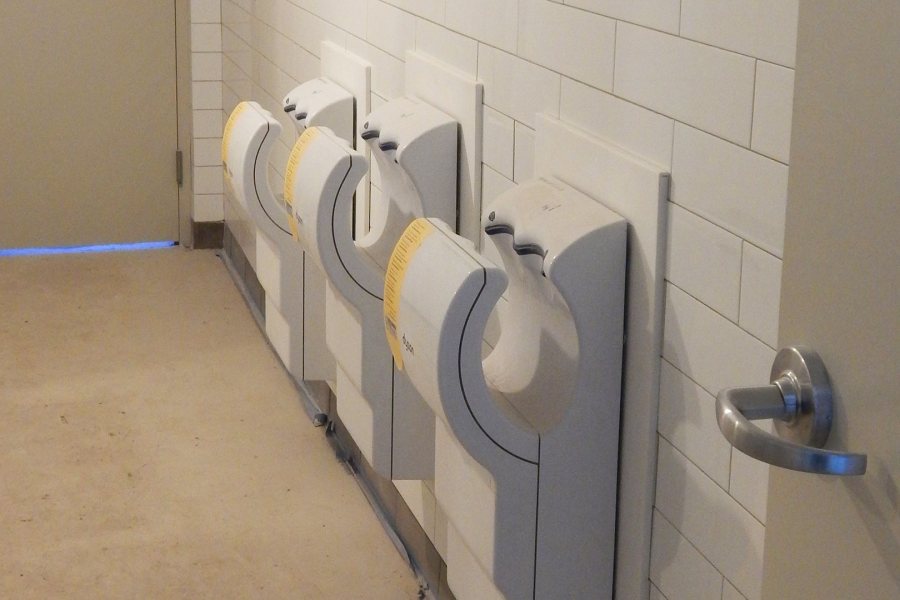 Taking on the campus wastestream and infrastructure too, the Stringer-Wheeler project is part of a greater EcoRep plan to convert a total of 38 towel dispensers in five buildings — the Page, Adams, Parker, and Rand residences, as well as Chase — to dryers.
Paper hand towels account for more than a third of the waste from residential buildings with paper towel dispensers, Stringer and Wheeler wrote in their proposal (which will pay for the installation of two already-purchased dryers in the restrooms that serve the Bobcat Den. The other project is for four dryers in Rand Hall.) And the towels can't be composted and must be sent to the local landfill.
Moreover, the pair stated, for just the five buildings in the EcoRep study, the college spends upward of $21,000 annually on paper towel-related expenses.
The first-year cost of the conversion for the five buildings would be close to $78,000 — but the annual operating cost of the dryers would be $600. After five years, they predicted, Bates would save about $105,000, and after 10 years, about $210,000.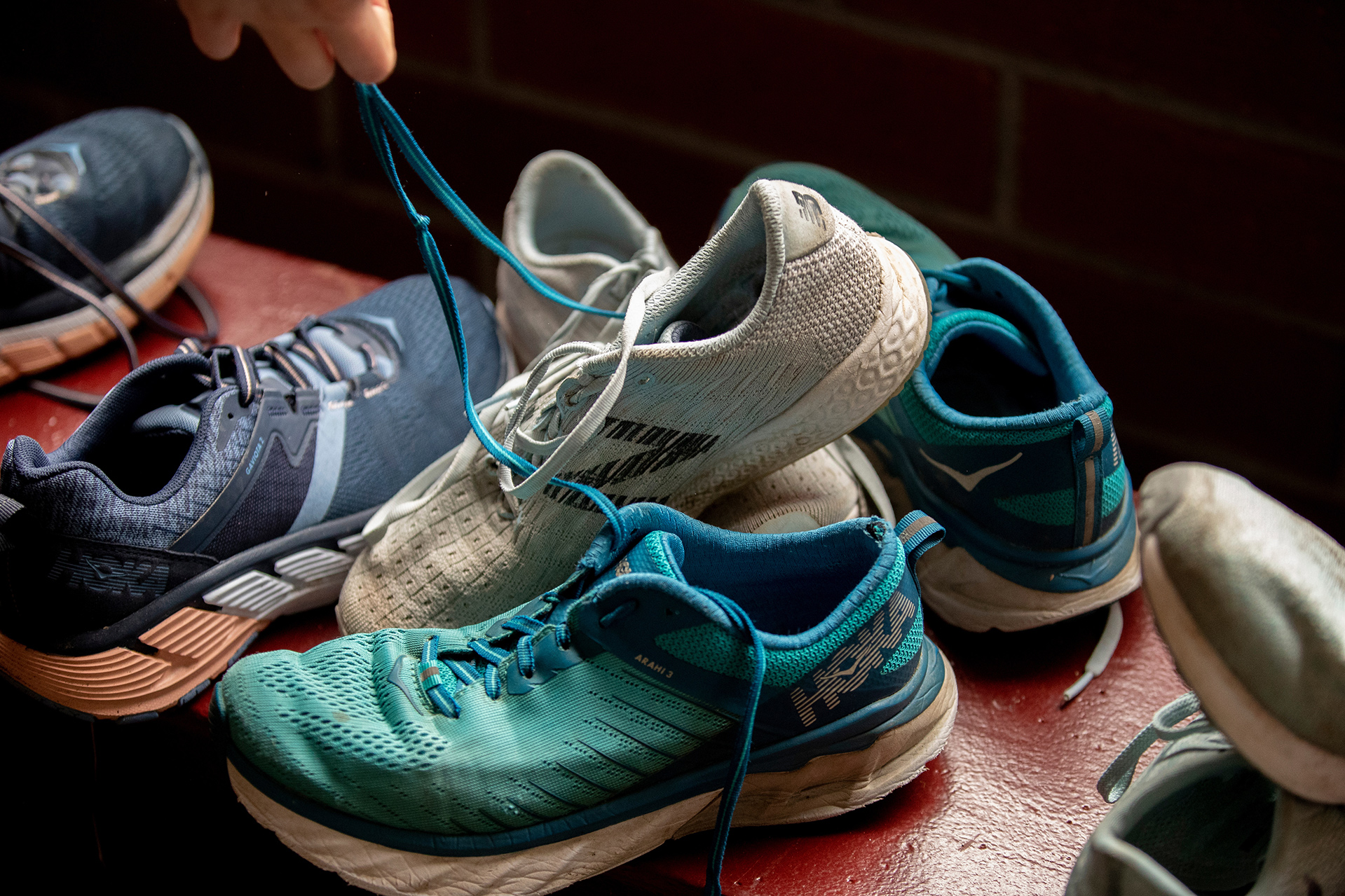 In addition to the savings both in dollars and waste, the dryers make life easier for the custodians and for the crews who pick up trash from the buildings. The students "took everything into account, really — the cost of buying paper towels, cost of disposing of them, the labor involved in having to manage all the paper towels, etc.," says Twist. "It was really nicely done."
In fact, Twist points out, the EcoReps' fact-finding in the case of towels vs. dryers has come to the attention of the college's capital planners, "to see if we could do that on a wider scale, because it has such a favorable payback." He adds, "It's pretty staggering. And no one really knew before the students did some work on it."
As the GIG program has progressed from year to year, "we've seen a lot of increasingly practical projects that are very well-documented and thought-through," Twist says. "And that also shows an increasing sophistication beyond just, 'Wouldn't this idea be nice?'
"The students are doing a really good job in making a hard case for these things to happen."
Green Innovation Grants awarded for 2019–20
Proposal (two combined): Replace paper towels with hand dryers in Chase and Rand halls
Submitters: Tamsin Stringer '22, Bloomington, Ind.; Emma Wheeler '20, Bergen, Norway; Dianna Georges '22, Clifton, N.J.; Noah Pott '22, Great Barrington, Mass.
Award: $3,600
Goal: Reduce cost of, waste produced by hand-drying at Bates
Proposal: Place stickers on 280 College Street glass walls to increase their visibility to birds
Submitter: Adam Banks '21, Jamaica Plain, Mass.
Award: $150
Goal: Reduce bird casualties from flying into glass
Proposal: Breed insect larvae (Zophobas morio) that consume and digest plastic foams such as Styrofoam
Submitter: Henri Emmet '21, New York City
Award: $240
Goal: Reduce plastic waste produced by the college
Proposal: Place a collection box in the Merrill Gym lobby to collect discarded athletic footwear for recycling
Submitter: Carly Harris '22, Orinda, Calif.
Award: $274
Goal: Reduce the amount of worn-out athletic footwear produced by students and sent to the landfill
Proposal: Furnish Ladd Library with "stapleless" staplers
Submitter: Hermione Zhou '21, Shenzhen, China
Award: $300
Goal: Reduce one-use consumption of metal staples, make paper more recyclable
Proposal: Standardize waste collection facilities among Bates dorms
Submitter: Olivia LaMarche '20, Lynnfield, Mass.
Award: $767
Goal: Increase amount of waste accepted for recycling by reducing contamination
Proposal: Create facilities for informal and formal education in the Bates Plot
Submitters: Mia Shifrin '22, Weld, Maine; Amelia Keleher '21, Corrales, N.M.
Award: $1,512
Goal: Enhance the Bates Plot's role as a gathering space, and improve organization and accessibility to the garden for Bates and Lewiston communities
Proposal: Install bathroom lighting controls in the Residential Village
Submitters: Julia Panepinto '20, Buffalo, N.Y.; Olivia McCulloch '21, Sunderland, Mass.; Ruby Lightbourn '21, Los Angeles; Jared Schell '21, Media, Pa.
Award: $1,800
Goal: Conserve energy by turning off lights when bathrooms are empty