Journalist Juan Williams to discuss legacy of Brown vs. Board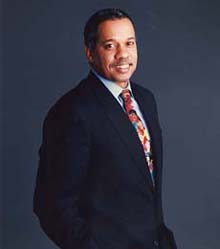 Juan Williams, senior correspondent for National Public Radio's Morning Edition and author of an acclaimed biography of Supreme Court Justice Thurgood Marshall, will give a lecture titled The Legacy of Brown vs. the Board of Education at 7:30 p.m. Thursday, May 12, in the Bates College Chapel. The public is invited free of charge.
Part of a yearlong series of events examining the legacy of the 1954 Supreme Court case outlawing segregation in public schools, the event is sponsored by the law firm of Skelton Taintor & Abbott, the Harward Center for Community Partnership at Bates and the College Lectures Committee. For more information call 207-786-6195.
Author of the critically acclaimed Thurgood Marshall: American Revolutionary, Williams also wrote the nonfiction bestseller Eyes on the Prize: American's Civil Rights Years, 1954-1965, the companion volume to the notable television series. His book This Far by Faith: Stories from the African American Religious Experience (2003) provided the basis for a six-part public television documentary. In 2004, Williams led a team of reporters and editors in the production of My Soul Looks Back in Wonder: Voices of the Civil Rights Experience, accounts of 50 activists from the civil rights movement.
During his 21-year career with The Washington Post, Williams served as an editorial writer, op-ed columnist and White House reporter. He received an Emmy for TV documentary writing and has won widespread praise for a series of documentaries including Politics: The New Black Power.
Williams contributes as a political analyst to the Fox News Channel and is a regular panelist on Fox News Sunday. He has appeared on many television programs, including Nightline, Washington Week in Review, Oprah and CNN's Crossfire.
A graduate of Haverford College, Williams sits on various boards, including the Washington Journalism Center and the New York Civil Rights Coalition.
View Comments