Papaioanou event honors 'relationships that give so much to the world'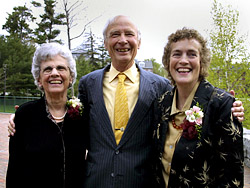 Andrew Carnegie probably never considered making a gift in honor of fellow philanthropist John D. Rockefeller.
But on Monday afternoon, one champion of Bates philanthropy honored another as the College inaugurated the Helen A. Papaioanou, M.D. '49 Chair in the Biological Sciences, established as part of a multimillion gift several years ago by Ralph T. Perry '51 and his wife, Mary Louise Seldenfleur.
"The establishment of this chair honors the value of relationships that begin at Bates and give so much to the world," said President Elaine Tuttle Hansen.
At the Olin Arts Center Concert Hall event, Pamela J. Baker '70, the first Helen A. Papaioanou Professor of Biological Sciences, offered her inaugural lecture, "Immunology in the Liberal Arts and Sciences."
Helen Papaioanou, the chair's namesake, and donor Ralph Perry shared the Bates campus for two years as students, but their close friendship blossomed in more recent times as they emerged as the two highest-profile leaders of Bates philanthropy.
"When we were students, I think I was aware that Helen was the one who spent her time in the labs, and she was aware that I was the one who spent my time on the athletic fields," Perry said. "Over the last 10 years, we have become real friends as we are now on the same life path."
Papaionou, a retired Detroit-area pediatrician who specialized in allergy and immunology, served as a Bates trustee for 34 years. Chair of the 1991-96 Bates Campaign, she earned an honorary Doctor of Science degree in 1997 and received the highest alumni honor, the Benjamin E. Mays Medal, in 2003.
"After Milt Lindholm," Perry said, referencing the revered dean emeritus of admissions, who was in the audience Monday, "no other Bates graduate is held in higher esteem than Helen Papaioanou."
As an undergraduate, Perry honed his amore ac studio spirit in Bates athletics, earning nine varsity letters while majoring in history. An entrepreneur, he is the retired founder of Progressive Distributors in Winthrop, now a subsidiary of the Hannaford grocery chain. During the 1990s, Perry donated more than $6.5 million to Bates to support financial aid and the academic program, $1.5 million of which established the permanently endowed Papaioanou chair.
"Your gift is now living and breathing for Bates," Papaioanou said. "Ralph and Mary Louise: We celebrate you, we honor you and we cherish you."
Jill Reich, dean of the faculty and vice president for academic affairs, introduced Baker, who is also an associate dean of the faculty, by describing one of the professor's "typical" days.
"She begins her day doing research, perhaps with a student in Carnegie," Reich said, noting Baker's eminence as a researcher of alveolar bone loss in periodontal disease. Baker might then head back to Lane Hall to discuss a major foundation grant proposal, followed by a search-committee meeting for a new hire in the English faculty. Then she might work on a report outlining needed financial support for faculty research.
Then comes a conference call discussing initiatives among Maine's biomedical research centers and a lecture to students in the famous Short Term biology unit, "Cell Hell," followed by a meeting with an architect designing a new digital imaging center. "Then it's off to the Den for lunch," Reich said to laughter from the audience.
"That may be an exaggeration," continued the dean. "But Pam certainly excels as a scholar, teacher and leader. She puts her mind and heart into everything she does."
Baker discussed both her research and the value of pursuing scholarship within a liberal arts community, where interaction with colleagues across the academic spectrum keeps a scholar's mind alive.
Baker focuses on periodontal (gum) disease and the complex relationship between the immune systen and susceptibility to this disease. Contrary to conventional assumptions, Baker's research shows that a healthy immune system can trigger resorption (the removal of bone tissue) in the jaw, a common result of periodontal disease.
Also, she has found that the presence of certain genes and whether or not they are in use affect predisposition to the disease.
In her talk, Baker also noted the continuous and invigorating overlap between teaching and research, and "the pleasure of working with a wonderful group of thesis students over the years."
"It is a real honor to be chosen for a distinction that pays tribute to such a wonderful person as Helen, who embodies the best of our mission at Bates," says Baker. "She has had a distinguished career as a doctor, and is a warm and generous person who has always taken the time to get to know faculty and staff and support their work."
View Comments