UConn's Rowe to receive Bates honor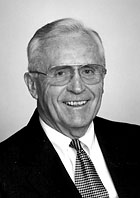 Donald "Dee" Rowe, legendary former Worcester Academy and University of Connecticut basketball coach, will deliver the keynote address at the inaugural induction ceremony of the newly created Bates College Scholar-Athlete Society at 5 p.m. Saturday, May 28, at the Mays Center on the Bates College campus. Rowe will also be inducted as the society's first honorary member.
The Bates Scholar-Athlete Society was created with an endowed gift from Worcester native and Institute for International Sport founder and executive director, Dan Doyle. A 1972 graduate of Bates, Doyle was co-captain of the Bates men's basketball team. He presently serves as a trustee at the college.
The society will induct graduating seniors nominated by their coaches who have earned a 3.5 grade point average or have received a special nomination from faculty and staff for distinguished academic achievement in their junior and senior years. To be eligible for induction, student-athletes must participate in a varsity sport for at least three years. Two distinguished Bates graduates will also be inducted each year, as will one honorary member from outside of the school, the first of which will be Rowe.
According to Bates Athletic Director Suzanne Coffey, Rowe is "one of the most admired individuals in the field of sport. His national reputation includes widespread awareness that his mentorship of young athletes, as well as his support of the scholar-athlete ideal, is perhaps unequaled in our profession. We are honored that Dee will be delivering the first Scholar-Athlete Society address, and equally proud to be able to induct him as an honorary member."
Rowe said he is "greatly honored to be at this inaugural scholar-athlete ceremony. I don't think there is a better laboratory to teach life's lessons than athletics. You can have quality athletics, quality preparation for life, and it can be done with dignity, style and good taste – and this is what Bates is doing. I think this society will be an inspiration to future generations not only at Bates but for all of Division III, and a gospel that should be read by all NCAA institutions."
Rowe was head coach at UConn 1969-77 and remains a special adviser to the athletics department.
View Comments