Leading choreographers perform at Bates Dance Festival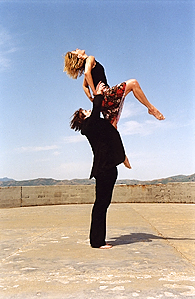 The Bates Dance Festival's roster of resident artists includes many luminaries of the contemporary dance world. The 2005 Faculty Gala concert, presented at 8 p.m. Saturday, Aug. 6, at Shaeffer Theatre, showcases the exceptional diversity and talent of such choreographers as Sean Curran, David Dorfman, Spanish dancer Clara Ramona and ballet artist Rachel List. Tickets are $18/$12 (students and seniors) and may be purchased by calling 207-786-6161 after July 9. (This production is appropriate for an audience of all ages.)
The Faculty Gala is a journey through the dance universe featuring an entertaining array of modern, improvisational, flamenco, Baroque and other dance forms. With his trademark deadpan humor, Dorfman performs Social Security: A Work In Progress, a new text dance that tackles head on the issue of collective safety. Curran dances St. Petersburg Waltz, his newest solo set to the music of Meredith Monk. List, adorned in a fabulous period costume, dances the Baroque piece, La Passacaille D'armide, from the year 1713.
Kathleen Hermesdorf and Albert Mathias investigate liberation from gravity in w(a)(e(i)gh(t))less, a duet about weight, waiting and the freedom of flight. Flamenco dancer Clara Ramona reflects on her heritage in a powerful new solo. The Faculty Gala will include other surprise guests offering something for everyone.
Dorfman and his company's dancers and artistic collaborators have performed extensively in New York City and throughout North and South America, Great Britain and Europe. Dorfman received seven New York Dance and Performance ("Bessie") Awards.
Curran first made his mark on the dance world as a principal dancer with the Bill T. Jones/Arnie Zane Dance Company. An original member of the New York City cast of the Off-Broadway percussion extravaganza STOMP! Curran also choreographed James Joyce's The Dead for The Playwright's Horizon Broadway production.
Ramona has toured throughout China with her 25-member company performing Carmen. Her solo touring and teaching have taken her to Japan, Taiwan, Singapore, Malaysia, Philippines, Hong Kong, Australia, Israel, England, Spain and the United States. Hermesdorf and Mathias make up Motion Lab, a perpetual experiment of movement and sound. They also perform with the Bebe Miller Company.
List has performed across the United States and in Canada, Mexico and Europe as a member of Les Grands Ballets Canadiens, The Vanaver Caravan, Partridge/Benford/Dance/Music and The New York Baroque Dance Company.
In addition to main stage performances, the festival offers a selection of free and low-cost events. Complete information is available at the website: https://www.bates.edu/dancefest.
View Comments