Bates responds to Hurricane Katrina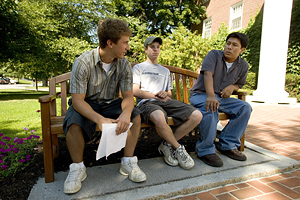 Bates College has joined the international outpouring of support for the Gulf Coast regions devastated by Hurricane Katrina (see links below).
A combined effort by Bates student, staff and faculty, the Katrina Relief Initiative had raised more than $5,000 as of Sept. 13.
On Sept. 14, it was announced that proceeds from a student and community art show during Parents and Family Weekend will go to the KRI.
Meanwhile, 18 students from Maine who had intended to start the semester at Loyola, Tulane and the University of New Orleans have accepted Bates' offer of free tuition for the semester. Three come from the Lewiston-Auburn area, with others from as far south as Wells and as far northeast as Addison.
Related news:
View Comments