Peace and justice activist to speak at Stringfellow Awards ceremony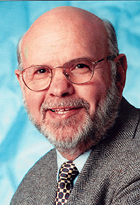 Tom Ewell, recently retired executive director of the Maine Council of Churches and an activist in many peace and justice arenas, will give a lecture and present the annual William Stringfellow Awards in Justice and Peace at 7 p.m. Friday, March 31, in Chase Hall Lounge, Chase Hall, 56 Campus Ave., Bates College. Sponsored by the Office of the Chaplain, the talk and a potluck dinner that begins at 6 p.m. are open to the public free of charge. Call 207-786-8272 for more information.
A leader in the 2005 effort to ensure that all Maine citizens are protected by law from discrimination based on sexual orientation, Ewell will give a lecture titled, Nonviolence: Let the Revolution Roll On. The lecture honors the legacy of William Stringfellow, Bates class of 1949, a lawyer and lay theologian prominent in the American peace movement, and coincides with the 2006 William Stringfellow Awards for Justice and Peace, to be presented this year to Bates senior Amanda Harrow of Hopkinton, Mass., and Lewiston resident Jake Grindle, a Maine People's Alliance community organizer for the Androscoggin Valley region.
Harrow will graduate this May with a degree in psychology. She recently received a Thomas J. Watson Fellowship, a prestigious one-year $25,000 grant awarded to graduating college seniors for independent study and travel outside of the United States. Harrow will investigate strategies for protecting children from abuse in New Zealand, Peru, Sweden and Uganda.
An organizer at Bates of the New World Coalition and the Women's Resource Center, and a member of the Bates Emergency Medical Services board, Harrow has been active in various social justice groups in Lewiston-Auburn. Involved with various campaigns such as Maine Won't Discriminate and community groups, including the Coalition of Many and One, she has worked extensively to promote gender equality and redress the consequences of inequality through her work with the Abused Women's Advocacy Project, the Massachusetts Commission on the Status of Women and RAINN, the national sexual assault hotline.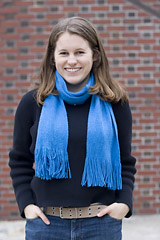 International travel has offered Harrow a new perspective from which to view the actions of the United States, she says, and fundamentally changed her understanding of U.S. global policy. Most recently, Harrow studied in Bolivia for six months, where she found great inspiration in the courage and activism of indigenous people. As a result, she has spent significant time in the last year working on issues connected to the region. Her latest project, planned for April 2006, is organizing a Bates student-led exploration of globalization "on the ground" in Maine and Nicaragua.
While growing up, Harrow's family cared for numerous foster children, which "instilled in me respect and compassion for all forms of life," she says. "As I grew, I learned more about the root causes of poverty, violence and social and environmental degradation and became convinced of the need for change at the structural level," she says. Harrow is the daughter of Sheryl MacGowan Harrow, Bates Class of 1975, and Ed Harrow of Hopkinton, Mass.
Jake Grindle grew up in Pownal and attended Greely High School in Cumberland. He received his B.A. in sociology and anthropology from the University of Maine at Farmington.  He has worked on U.S. Senate campaigns, multiple ballot initiatives, statewide healthcare and environmental legislation, the protection of citizen rights and democracy, consumer protection and human rights.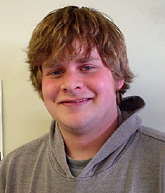 Grindle typically draws inspiration from volunteers and staff he works with.  He has supervised one of the largest voter registration campaigns in Maine history, which registered more than 12,000 new voters, one door at a time, in summer 2004.  In 2005, he supervised a very successful door-to-door canvass bringing the message of community and mutual responsibility to the debate over Social Security.  Both of these door-to-door efforts were led by Bates students.
Grindle's proudest accomplishment as an organizer, he says, is his role with a group of downtown Lewiston residents who challenged Lewiston's Heritage Initiative, an urban renewal plan to put a highway through downtown. Picking up on the theme of the invisibility of local residents and their needs in Lewiston's planning processes, members launched a "Visible Community" campaign, rallying residents to challenge the proposal and promote alternatives.
Grindle lives in Lewiston with his wife.
View Comments