Prestigious Watson Fellowships awarded to two seniors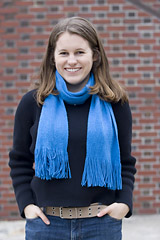 Two Bates College seniors are among 50 students across the country to receive 2006 Thomas J. Watson Fellowships, $25,000 grants that support a year of independent research abroad.
The Bates recipients are Amanda Harrow of Hopkinton, Mass., and Andrew Stowe of Wallingford, Conn.
Harrow's research project, titled "Keeping Kids Safe: Strategies for Protecting Children from Abuse," will take her to New Zealand, Peru, Sweden and Uganda, where she will investigate a variety of cultural and institutional approaches to child protection.
For "Life on the Wing: Traveling Pole to Pole with the Arctic Tern," Stowe will spend a year following the global migration route of this sea bird, working to expand scientific knowledge of the species and examining how it is affected by environmental policies in countries along the way.
The Watson Fellowship is designed to identify potential leaders and challenge them in ways that foster independence, a global perspective and adaptability to new cultures. It funds research, conducted outside the formal academic environment and the recipient's home culture, into a topic deeply important to the recipient.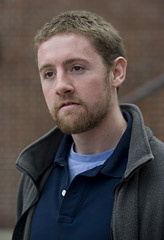 For both Stowe and Harrow, the Watson affords an opportunity to pursue research interests instilled by their parents. A psychology major at Bates, Harrow is the daughter of Sheryl MacGowan Harrow, Bates class of 1975, and Ed Harrow. The Harrow family has supported 24 foster children, a practice that sparked Harrow's interest in child-protection issues. (Click here to read more about Harrow's Watson research.)
In recognition of her social justice activities at Bates and in the community, Harrow was also named this month as one of two recipients of Bates' William Stringfellow Award in Justice and Peace.
Stowe's parents, Lawrence and Helen Stowe, are dedicated birdwatchers who passed this interest along to their two sons. (In fact, the couple met through a birdwatching course.) The arctic tern "is one of the most incredible species of birds," Stowe explains. (Click here to read more about Stowe's Watson research.)
A program of the Thomas J. Watson Foundation, of Providence, R.I., the Watson Fellowship was established in 1968 by the wife and children of Thomas J. Watson Sr., the founder of IBM. The 50 Watson recipients this year were selected from among 176 applicants nominated by the colleges and universities they attend.
At least one Bates senior received a Watson Fellowship every year from 1985 through 2000, and in 2002 and 2003.
View Comments