Virginia party chair to lecture on 'failure of feminism'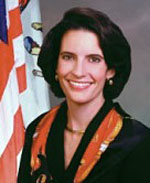 Virginia Republican Party Chairwoman Kate Obenshain Griffin gives a lecture on the topic Failure of Feminism at Bates College at 7:30 p.m. Wednesday, April 5, in the Edmund S. Muskie Archives, 70 Campus Ave.
Sponsored by the Bates College Republicans, the event is open to the public at no cost. For more information, please contact Nate Walton, chairman of the Maine College Republicans, at 207-240-4549 or this chairman@mainecr.org.
"Griffin's lecture will focus on her tireless activism on behalf of conservative causes and women, and why the modern Republican Party best represents American women," stated Emily Taylor, a first-year student at Bates and women's outreach director of the Bates College Republicans.
"I am honored to welcome Kate Griffin to Bates to represent a voice rarely heard on campus during Women's History Month," said Walton, a Bates sophomore.
Named by The Atlanta Journal-Constitution as one of the rising stars in the Republican Party, Griffin garnered national attention when she orchestrated an impressive grassroots movement to fight Democratic Gov. Mark Warner's efforts to raise taxes in Virginia in 2003.
Griffin attracted national attention again at the 2004 Republican National Convention as a frequent guest on news and radio shows, including Fox News, C-SPAN and National Public Radio. As an elected member of the Republican National Platform Committee, Griffin championed conservative values on issues relating to life, marriage, national security and economic policy.
Griffin served as education and health policy advisor for then-governor, now U.S. Senator, George Allen. Griffin has served as both director of program development and director of lectures for Young America's Foundation, an educational foundation committed to promoting political balance on college campuses, where she developed the largest conservative lecture program in the nation. Griffin now serves as a member of the foundation's board of directors.
Griffin recently founded and co-chairs a political leadership training program in Virginia for women. She is the co-founder of James 1:27 Foundation, a non-profit organization dedicated to providing assistance to widows and orphans in times of crisis.
A Virginia native, Griffin is a graduate of the University of Virginia and lives in Winchester with her husband and their four children.
View Comments