'Betty Bates' materials show progress in women's rights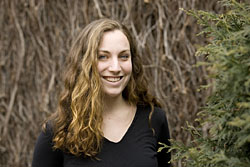 The past retains its power to surprise today's students, as Alison Vander Zanden '06 learned during the winter.
In a research project for the course "Sociology of Gender," taught by professor Emily Kane, Vander Zanden was the latest student to delve into the regulatory "Bates Blue Books" and advice booklets that prescribed the limits of student life at the college.
Seeking to explore ways that social forces, such as institutional expectations, form a person's gender identity, Vander Zanden wondered what the Bates of past years said about how female and male students should behave. She was shocked to encounter a system of gender segregation and discrimination that, up until 30-odd years ago, was all too familiar to generations of women attending nearly any college (and Bates was among the more progressive schools in this regard).
"Holding a Blue Book that a woman had pored over, trying to figure out what the regulations were — that's what I feel when I hold that book too," she says. "I try to imagine what her relationship to Bates was like. It's really an interesting thing, and it's actually kind of emotionally draining."
Vander Zanden looked at every Blue Book from the prototype, the 1915–16 "Regulations for the Administration of Bates College," into the 1970s. "Regulations," for example, contained two matriculation pledges. The men's began with an active voice: "I hereby pledge myself as a condition of my membership in Bates College," followed by nine fairly general do's and don'ts.
The women, meanwhile, passively pledged "to be governed by the following principles," whose 15 very specific regulations regulated what to do with free time (not much) and who to spend it with (not men). It was a tradition that lasted in spirit, if not in specifics, until the tenure of President Hedley Reynolds and the early 1970s.
The parietal rules, with their exhaustive routines for signing in and out of women's dorms, were "an incredible system, and must have required miles and miles of books on shelves to keep track of," Vander Zanden says. The system also required a certain tolerance for contradiction as, she says, "it relied on the competence of the very people" — female students — "it calls not competent."
Vander Zanden points to some tidbits from the advice booklets issued to first-year students by the men's and women's students in the 1950s. Quiz: Can you tell which gender received the booklet "The Straight Scoop" and which got "Hi, New Betty Bates"?
"As a women and gender studies major, I find this stuff fascinating, especially in its overtness," Vander Zanden says. "Feminists obviously still argue that gender discrimination still exists, but to see segregation laid out so clearly is fascinating."
View Comments