Harward Center awards faculty and staff grants for partnership projects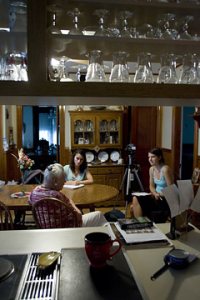 Seven Bates College faculty and staff have been awarded Harward Center grants in the inaugural round of a new, annual funding program by the Harward Center For Community Partnerships. The grants, awarded competitively by a selection committee, are designed to offer faculty and staff significant support for publicly engaged teaching, research, cultural and other community projects. Seven projects — five led by faculty and two by Bates staff members — received grants totaling $33,500.
"I am thrilled by the range of the work we are supporting," said David Scobey, Harward Center director. "The projects involve the whole range of the college's educational mission, from theater to literary studies to environmental economics."
"Some grants will lead to new courses. Others support new artistic and cultural works," he said.  Still others involve research for the public good. The creativity and ambition of this first round of grant winners are exciting."
The seven Harward Center Grant recipients and their projects include:
• Patricia Buck, assistant professor of education, who will supervise two undergraduates working with the Lewiston Adult Education Center to develop public-health materials and survey community practices involving ELL (English Language Learners) in Lewiston's immigrant community.
• Laura Faure, director of the Bates Dance Festival, for support of a site-based work at Lake Andrews for the 25th anniversary of the festival in summer 2007. Bates students will help to coordinate the project, participate in summer creative workshops and following the performance of the work, analyze the project in fall 2007 courses.
• Phyllis Graber Jensen, communications and media relations photographer and writer, who will work with a Bates undergraduate researcher, a Lewiston High School videographer and community historians to create a video oral history collection about the Jewish community of Lewiston-Auburn.
• Lynne Lewis, associate professor of economics and environmental studies, who will use Geographic Information Systems to conduct a socioeconomic survey of the Androscoggin River watershed, part of a teaching and research project on using land valuation to encourage sustainable development of river valley ecosystems.
• William Pope.L, lecturer in theater, who will revise and tour his acclaimed performance art project "The Black Factory," during summer 2006.
• Mary Rice-DeFosse, professor of French, who will work with the Franco-American Heritage Center in Lewiston and two undergraduate researchers to collect video oral histories of Francophone elders.
• Lavina Shankar, associate professor of English, who will develop a new service-learning course focused on the relationship between human beings and dogs, integrating cultural studies with work in animal shelters, veterinary clinics and elsewhere.
"I believe that these projects have launched the Harward Center Grant program on an auspicious path," said Jill Reich, dean of the faculty and vice president for academic affairs at Bates. "They are imaginative and substantive, and promise important benefits for both the college and our community partners. The proposals underscore how seriously faculty and staff view the educational opportunities provided by civic engagement and its potential to advance a Bates education."
View Comments