Comedian Bob Saget to perform at Bates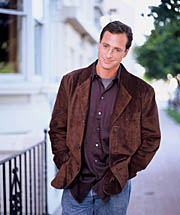 Actor, comedian and TV host Bob Saget performs at Bates College at 8 p.m. Monday, Nov. 13, in the Gray Athletic Building, Central Avenue.
Comedian Alexandra McHale, known for her VH1 commentaries about television, opens for Saget. The doors open at 7 p.m. Admission is $18, with tickets available at Bull Moose locations and online via this link. The show is sponsored by the Chase Hall Committee.
Please note that this performance is intended for mature audiences only.
Saget may be best-known for his starring roles on two of TV's most family-friendly shows, "Full House" and "America's Funniest Home Videos." But he's also a whip-smart standup who for more than 20 years has wielded a hip and edgy brand of comedy that nowadays deals with life as a single dad, dating, divorce and any questions his audiences may have about "Full House."
Saget's film credits include cameos in the feature films "Half Baked" and "Dumb and Dumber" and a recent spot in "The Aristocrats," and he directed the 1998 comedy "Dirty Work." He has appeared on HBO's hit series "Entourage" and the Showtime series "Huff," and starred in the critically acclaimed off-Broadway play "Privilege."
Saget plans to direct, produce and voice the film "Farce of the Penguins," a takeoff of the hit "March of the Penguins," and has a new series in development at HBO.
Variety magazine described Alexandra McHale's act as "sassy, off-color, but never crude." She has performed on NBC's "Tonight Show with Jay Leno," CBS's "The Late Late Show with Craig Kilborn" and Comedy Central's popular "Premium Blend." She has headlined at more than 300 colleges. This fall, McHale is performing her solo show "Flying StandBy" in New York and Los Angeles.
View Comments