Dance company features works by noted New York choreographers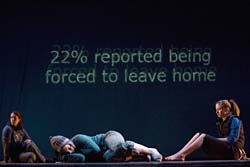 The Bates College Modern Dance Company, directed by Carol Dilley, offers a program called "Move Out" in performances at 5 p.m. Saturday, Dec. 2; 2 p.m. Sunday, Dec. 3; and 7:30 p.m. Monday, Dec. 4, in the college's Schaeffer Theater, 305 College St.
Admission is $6 for the general public and $3 for children, seniors and full-time students. For more information, please call 207-786-6161.
The company will perform six pieces. Two are by guest choreographers from New York City: Jodi Melnick, whose dance is titled "Russett Shock," and Jennifer Archibald, with "In the Dark," a piece that examines the plight of homeless teenage girls. Also on the program is "The Veil" by Maine choreographer Louis Gervais.
Sarah McCormick of the Bates dance faculty contributes the duet "Contained," which she will perform with Dilley; and a work about the Sistine Chapel titled "Michelangelo Said," featuring original music by Bates senior Kevin Cox of Worcester, Mass.
The sixth piece is "Light Stepping," choreographed by Dilley and with lighting design by Michael Reidy, also of the Bates faculty.
The dancers will include 19 Bates students.
Melnick has been a featured dancer with Twyla Tharp and Irene Hultman, and in summer 2006 was part of a trio with Mikhail Baryshnikov that premiered a work by Donna Uchizono, commissioned by the Baryshnikov Arts Center. Melnick's own choreography has been shown in New York, Japan, Ireland, Estonia and Russia. In 2001, she was honored with a Bessie award for sustained achievement in dance.
Currently, Melnick works with Susan Rethorst, Sara Rudner and Vicky Shick, and since 1993 has worked with such New York choreographers as Tere O'Connor, Dennis O'Connor, Yoshiko Chuma, Yves Musard and Trisha Brown.
Archibald is the founder and artistic director of Arch Dance company. She has performed across the United States, in Europe and Canada. She has staged off-Broadway shows, choreographed musicals for professional theater and served as a movement specialist and choreographer for actresses Sarita Choudury and Audrey Tautou ("Amelie"). She teaches contemporary jazz and hip hop, and is on faculty at the Bates Dance Festival.
Gervais, of Waldoboro, began his professional dance training at the first Bates Dance Festival, in 1983. Since then, he has appeared with more than 30 dance companies across North America, including those of Lar Lubavitch and Marie Chouinard. He has created works for dance companies and colleges, as well as award-winning theatrical solos and interactive performances for children. In recent years, Gervais has incorporated original music, storytelling, commedia dell'arte masks and puppetry into his work. He teaches at New Dance Studio in Portland.
View Comments