Bates awards Johnson, Whitehouse professorships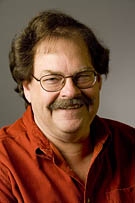 Bates College has recently appointed two faculty members to four-year term professorships, President Elaine Tuttle Hansen announced. Professor of History Michael Jones has been named the new Christian A. Johnson Professor of Interdisciplinary Studies, and Professor of Sociology Emily Kane has been named Whitehouse Professor.
An expert in the history of the North Atlantic region from late antiquity through the medieval period, Jones "exemplifies the strength and gains of crossing the traditional boundaries of disciplines," Hansen said. Most recently, his work in the Shetland Islands extends his expertise into areas of archaeology and historical ecology and reflects his interest in bringing together faculty from many disciplines around topics involving Atlantic Studies. Jones has been at Bates since 1982. His courses span more than a dozen centuries of history and he was central to the founding of the Bates Program in Classical and Medieval Studies in 1988. Bates' second Johnson Professor, Jones succeeds Jane Costlow, Professor of Russian.
Funded through a $1.2-million grant from the Christian A. Johnson Endeavor Foundation of New York City, the Johnson Professorship recognizes the value of taking research and teaching wherever they lead – even if beyond the boundaries of established fields of study. Christian A. Johnson, a New York financier and industrialist who emigrated from Sweden, donated funds to incorporate the foundation in 1952. His devotion to education and nurturing the curiosity and intellectual development of young people continue to characterize the foundation, now headed by his daughter Julie Johnson Kidd.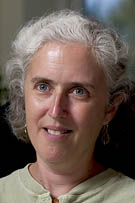 The Whitehouse chair recognizes the characteristics that Bates has consistently valued, including dedication to educational and moral excellence and respect for human dignity. Kane's work "evinces these aspects of scholarly endeavor as she seeks to examine issues of social inequality, the ideology of gender and family interactions," said Hansen. Kane has been at Bates since 1996. Her courses range from examining race and class to teaching quantitative and qualitative research methods. Kane succeeds John Kelsey and Georgia Nigro, professors of psychology, to become the college's third Whitehouse Professor.
The Whitehouse Professorship was established in 1985 with a gift to the endowment from David '36 and Constance Whitehouse. Born and raised in Auburn, Whitehouse earned his M.B.A. from Harvard University after graduating from Bates in 1936. He served in leadership positions at the Container Corporation of America his entire career, retiring in 1980 as vice president. The Whitehouses passed away in the spring of 2000 and are survived by four adult children.
View Comments