Kelsey receives College award for teaching excellence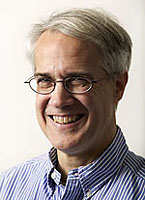 Nominated by students and alumni who extolled his scholarship, his challenge to his students and his encouragement, Professor of Psychology John Kelsey has received the College's Ruth M. and Robert H. Kroepsch Award for Excellence in Teaching.
"I think it is important that any educational institution honor teaching," Kelsey says. "Unfortunately, there are far more superb teachers at Bates than can be properly recognized by a single subjective award."
Kelsey joined the Bates faculty in 1979 and was promoted to full professor in 1991. He has been professor and chair of the Bates neuroscience program since 1997. Kelsey is a graduate of Grinnell College and earned his doctoral degree in biopsychology from the University of Chicago.
Kelsey has taught a wide range of lecture and laboratory courses, including human neurology, introductory psychology, motivation and emotion, animal learning, comparative psychology and research methods.
"Among a group of wonderful teachers, Professor Kelsey is outstanding," says Dean of Faculty Jill Reich. "Not only does he impart complex ideas and knowledge, but he does so in a way that builds his students' self-confidence, motivation and desire to learn."
She noted some of the comments from students and alumni who nominated him:
"My desire to be a life-long learner stemmed from John Kelsey."
"As one of his former thesis students, I can attest that his ability to encourage and challenge his students is something that produces graduates with high goals and confidence."
"John kept class lively with absurd, and therefore memorable, examples that made difficult concepts more interesting and fun."
Melissa Kay, who graduated from Bates in 2004, says that "Professor Kelsey doesn't just let his students get by, but challenges them to their fullest." Kay is a clinical research assistant at Bradley Hospital, a children's psychiatric hospital in East Providence, R.I., and teaching hospital for Brown Medical School. She's working on two federally funded projects, including one on the risk factors for adolescent suicide. "I am always telling friends how I got to do neurosurgery on a rat while at Bates. And they ask, with a shocked look on their faces, 'That was when you were an undergrad?'"
"He is one of the most significant mentors I have had," says Tyler Moran '02, a neuroscience major whose senior thesis, advised by Kelsey, investigated the role of serotonin in an animal model of schizophrenia. Now engaged in an M.D. and Ph.D. program at the University of Illinois, Moran says that "it is largely because of [Kelsey's] encouragement and guidance that I am here. Also, he wasn't afraid to be honest about telling me what he felt were my strengths and my weaknesses. He is extremely personable and frequently invited his thesis students to his home for dinner, clearly taking an interest in our lives."
Kelsey says that "like all teachers, I would hope that my students would come away from my classes with some understanding of the material, an ability to think analytically, and an appreciation of the role of research in answering important questions. I have been extremely fortunate at Bates that my colleagues have enabled me to teach classes that capitalize on my limited strengths and that I have been able to teach exceptionally talented students."
The late Robert H. Kroepsch '33, LL.D '71, established in 1985 the Ruth M. and Robert H. Kroepsch Endowed Fund for an award to a member of the faculty, "in recognition of outstanding performance as a teacher during the previous 12-month period." The honor, which carries a $5,000 award, recognizes a faculty member's ability to stimulate student interest in the subject, foster desire for further learning, help students understand subject matter in a broad context, and encourage a high level of student performance, among other criteria.
View Comments