Sangai Asia presents Asian Performance Night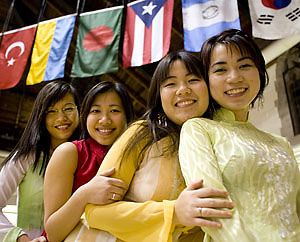 Sangai Asia, a student organization at Bates College that promotes Asian and Asian American awareness, identity and fellowship, presents its second annual Annual Asian Performance Night at 7 p.m. Saturday, Feb. 3rd, in Schaeffer Theatre, 305 College St.
The event is co-sponsored by the college's Multicultural Center and Women's Resource Center.
Asian Performance Night highlights the varied Asian and Asian-American cultures that are increasingly prominent in our community. The performers are Bates students of Asian and Asian American descent, as well as students with an interest in those cultures.
In addition to dances, skits and musical pieces performed by Bates students, a professional Cambodian performance group from Portland will take part. The program will conclude with a fashion show featuring Bates student-models wearing Asian and Asian American cultural costumes, including Chinese, Filipino, Japanese, Korean, Sri Lankan and Vietnamese.
View Comments