U.S. Rep. Michaud takes 'green' tour of college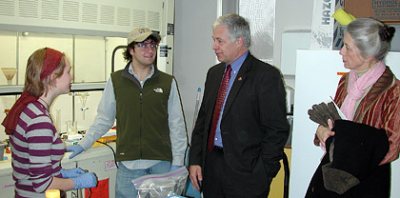 "What I see happening here at Bates is definitely going in the right direction," said U.S. Rep. Michael Michaud, D-Maine, during a "green tour" of Bates Feb. 20.
With Bates President Elaine Tuttle Hansen looking on, Maria Jenness '07 of Newport, Vt., and Greg Henkes '08 of Chapel Hill, N.C., show Michaud a bench-scale biofuels process that converts used vegetable oil from the College's dining services to a fuel that can be burned in furnaces for heat.
They and their instructor, Associate Professor of Geology Beverly Johnson, said that Bates hopes eventually to convert all 1,500 gallons of used cooking oil generated by the dining hall each year into biofuel used to heat the College.
Michaud also heard how Bates is building its new student housing and dining commons to high standards in energy efficiency, and saw a dining services "scrim line," where scrap food is scraped and retained for recycling at a pig farm in nearby Poland.
View Comments