Biologist Lee Abrahamsen honored for community work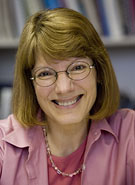 Several years ago, students in Lee Abrahamsen's 300-level virology course undertook a project for a hepatitis-C support group at a local hospital.
Members of the group craved information about everyday impacts the disease would have — "things like, 'Can I share my towels with my family without infecting them?' " Abrahamsen explains. "The students developed this nice little booklet for them. It was a really neat project."
That's the kind of community orientation that won Abrahamsen, associate professor of biology, a prestigious award from the Maine Campus Compact. In April 2007, Abrahamsen was one of three Maine college educators to receive the consortium's Donald Harward Faculty Award for Service-Learning Excellence (named for Bates President Emeritus Harward).
Abrahamsen's activities in this realm, coupled with her keen interest in pedagogy in the sciences, go back at least a decade. Students in her 100-level course "Learning and Teaching Biology" developed and helped teach curricular units in nearby schools. In 2004, she collaborated with a high school biology teacher to revamp a biotechnology course in that teacher's school. Last year, Abrahamsen's bacteriology students worked with a local horse farm to find an effective antibiotic for an outbreak of hoof disease.
"My role is to be a facilitator and resource," says Abrahamsen, who encourages upper-level students to propose a service-learning project in place of a non-final exam. "Students really own it. They really get into this far more than they would if I assigned a project and said, OK, here's what you're going to do."
View Comments