Kris Goulding receives Fulbright to research women and politics in Islam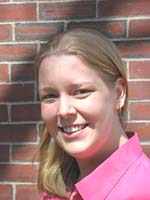 Kristine Goulding, a Bates senior from West Suffield, Conn., has received a Fulbright U.S. Student Program award for the 2007-08 academic year.
Totaling approximately $25,000, the grant will support Goulding's studies in the North African country of Tunisia. In the cities of Tunis and Nefta, she will explore the differences in political activity between women in conservative Muslim groups and those in the mystic Sufi branch of Islam.
Goulding previously studied in Rabat, Morocco, and in India. In addition to the Fulbright, she recently received a Language Initiative Scholarship from the U.S. State Department, an award that will enable her to improve her Arabic language skills though an intensive program in Tunis starting in July. She will work in Tunisia until June 2008.
"I'm hoping to work with the State Department eventually, doing policy analysis, anything like that," says Goulding, who will graduate from Bates this month with a double major in French and political science and a minor in religion. "Just doing something for the American government and bringing in a different voice. The Fulbright will give me a different perspective."
"I just feel so lucky that I've been able to do all of these things, and that the Fulbright program and Bates have been willing to give me these opportunities," says Goulding, whose thesis advisors were Matt Nelson in politics and Alex Dauge-Roth in French. "I couldn't have asked for more."
Building on research that she has done at Bates, Goulding wants to learn more about the political activity among women within a Sufi group in Nefta, and within neo-conservative groups in Tunis. Specifically, she wants to examine a paradoxical premise: that Sufi women are generally less politically active than those in the conservative groups, although Sufism is commonly regarded as more liberal.
"Because neoconservative groups separate men and women, creating very distinct spheres of male and female influence, neoconservative women are able to mobilize politically with more success," she explains. "Which would seem counterintuitive, because Sufism is seen as this democratic alternative to conventional Islam."
In Sufism, women can participate very actively in religious life. "Yet that participation doesn't translate into political activism outside of the shrine," Goulding believes. "So neoconservatives have no freedom within their religious sphere, and they find other outlets of expression. Whereas the Sufi women have a means of expression within the religious sphere, and so don't need other forms of expression."
The U.S. Student Program is one of a variety of grants for students and scholars funded by the Fulbright Program, which operates in more than 155 countries worldwide. The Student Program supports study and research abroad for U.S. recent bachelor's graduates, master's and doctoral students, young professionals and artists. In academic year 2006-07, more than 1,200 Americans studied abroad with either full or partial support from the Fulbright Program.
Established in 1946, the program's purpose is to build mutual understanding between the people of the United States and the rest of the world. It is administered by the U.S. State Department's Bureau of Educational and Cultural Affairs, which is responsible for the U.S. government's overseas educational, cultural and informational programs.
View Comments