Watson Fellowship to support Bates graduate's graffiti research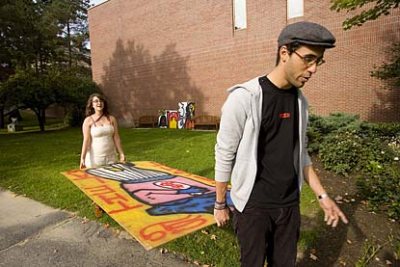 A Bates graduate from Chicago is one of 50 students across the country to receive a 2008 Thomas J. Watson Fellowship, a $25,000 grant that supports a year of independent research abroad.
Jordan Williams, who graduated from Bates in December 2007, will use the award to research the graffiti cultures in Germany, Brazil and South Africa.
The Watson Fellowship is designed to identify potential leaders and challenge them in ways that foster independence, a global perspective and adaptability to new cultures. It funds research on a topic deeply important to the recipient and conducted outside the formal academic environment and the recipient's home culture. This year's fellows come from 23 states and five foreign countries.
Titled "Graffn' Legitimacy: Global Perspectives on Race, Gender and the Real Writer," Williams' research will take him among graffiti writers in Germany, South Africa and Brazil. He will look at the factors — political, social, racial, gender — that shape those diverse graffiti cultures.
Williams is interested in understanding how writers' motivations and styles vary and how race and gender mediate their experiences in the three countries. In particular, he will examine the tension between people who write graffiti in legally designated zones and those who believe that the only "real" writers are those who do it illegally.
"Most writers are opposed to graffiti that exclusively utilizes legal avenues because they feel as if these conditions turn graffiti, which emphasizes commitment, dedication and political disruption, into an afternoon hobby," he writes in his Watson proposal.
The advent of "legal walls," he writes, has created a tendency to identify female writers with legal graffiti, implying that "many male writers believe women are mostly producing graffiti that is not 'real,' and male writers who exclusively produce legal graffiti are not real men."
"The fact that this whole issue of 'realness' is predicated on the illegality issue is a little bit of a problem," Williams says in an interview. "It tends to exclude parties that are contributing to the culture. It seems to create a situation where it's like a boys club, a hypermasculine thing."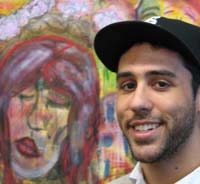 How did Williams settle on Germany, South Africa and Brazil for his research? Germany, he says, is a world graffiti center. It has a well-established and robust writing culture that gains additional interest from the Berlin Wall's history in the 1970s and '80s as a politically charged canvas for graffiti writers.
"South Africa's just on the way up" as a graffiti culture, he explains, and its history of apartheid deepens the role of race in shaping that culture.
Finally, Brazil "has this completely different graffiti style from anywhere else in the world, and it incorporates a lot of what I take as indigenous types of characters and artwork," he says. "It's really interesting to see how it's taking shape in a different area."
Williams, who double-majored in women and gender studies and in African American studies at Bates, was inspired to pursue this topic during a trip to Paris in summer 2006. He chose that city as a promising place to conduct research for his Bates senior thesis, intending to study the relationship between rap music and outbreaks of rioting by teenagers in some of the city's poor suburbs in 2005.
"Then I got to France and my eyes were just drawn to all these graffiti on the walls," he says. "It was just something that was really magnetic. And so I decided, the first day there, to switch thesis topics." Williams ended up investigating the French context for some of the same issues he hopes to explore in the Watson research.
"I only started learning about graffiti at all that summer," he says. "I've really immersed myself in since then."
A program of the Thomas J. Watson Foundation, of Providence, R.I., the Watson Fellowship was established in 1968 by the wife and children of Thomas J. Watson Sr., the founder of IBM.
At least one Bates senior received a Watson Fellowship every year from 1985 through 2000. Bates students or graduates also received Watsons in 2002, 2003, 2006 and 2007.
View Comments