Harward Center awards 2007 community partnership grants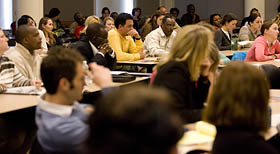 Eight Bates College faculty and staff members have been awarded grants by the Harward Center For Community Partnerships to support community-based educational work. Seven awards were Harward Center Grants for Publicly-Engaged Academic Projects, given to faculty and staff for publicly-engaged teaching, research, cultural and other community projects. The eighth is part of the center's new program, department and general education concentrations (GECs) grant initiative, designed to support the integration of civic engagement into the Bates curriculum. Altogether the projects — seven led by faculty and one by a Bates staff member — received grants totaling $29,000.
"Once again, the range of these projects is terrific," said Harward Center director David Scobey. "It's clear that Bates faculty and staff are using the grants to enlarge their teaching, research and creative work."
"I'm also excited by two new aspects of this year's grants," Scobey added. "First, their geographic range: Grants are funding community-based academic work in Rwanda, Guatemala and the Penobscot reservation, as well as here in Lewiston-Auburn. And, second, I am proud that we've launched a new program to integrate community engagement into faculty teaching and curricula."
The seven recipients of Harward Center Grants for Publicly-Engaged Academic Projects and their projects include:
• Claudia Aburto Guzman, associate professor of Spanish, for a project to create awareness of the participation that interfaith groups, involved in saving lives of those crossing the U.S.-Mexico border, have on border dynamics.
• Alex Dauge-Roth, assistant professor of French, for "Rwanda: From National Disintegration to National Reunification," an international and interdisciplinary two-day conference that featured guest speakers from Rwanda, Europe and the United States; members of the Rwandan diaspora living in Maine; and numerous students and faculty from Colby, Bates and Bowdoin colleges who do research on issues related to those that Rwanda faces as one of the poorest post-genocidal societies in Africa.
• Joe Hall, assistant professor of history, to supervise a student researcher who will catalog materials related to Wabanaki history in the Bates College Edmund S. Muskie Archives, where one of the most important collections for Maine Indian history resides. The project's final outcome will be a catalog and perhaps a publication for those interested in Wabanaki history.
• Heather Lindkvist, lecturer in anthropology, to investigate the reproductive health of Somali women in Maine. This project examines how American healthcare providers treat female genital cutting (FGC), and how Somali Muslim women, who have maintained this custom, respond to the conflicting cultural ideologies over FGC in their daily lives, in the interactions with medical practitioners and in their relations with kin and community.
• Bill Low, assistant curator, Museum of Art, who will oversee the "Voices of Seven Mills Exhibition Project." Museum L/A's first effort at producing major temporary exhibitions, this exhibition project is the result of ongoing efforts with the museum's Textile Workers Oral History Project. The exhibition will feature photographic portraits of textile mill workers by artist Mark Silber.
• Sarah McCormick, lecturer in dance, for collaboration with the Bates dance program and the Franco-American Heritage Center. The two groups have joined forces to promote and educate the community about dance in the following ways: through video documentation of Maine choreographers; by establishing the Franco-American Heritage Center as one of the primary sources for performing arts in the Lewiston-Auburn area; through diversity in programming theater, music and dance; by opening up an audience base for dance in the community; by exposing a variety of dance styles to the community and by providing the opportunity for Bates students, faculty and choreographic professionals to create and develop outreach projects.
• Kimberly Ruffin, assistant professor of English, for "Sighting and Sounding Sustainability: Gardeners-to-Artists." Collaborators plan and conduct workshops that elicit participants' reflection on the issues of sustainability and their experience as urban, organic gardeners. Generating "dialogue between campus and community," the project documents the artistic and intellectual products created during collaboration, in both the form of public art featured at area gardens and in a commemorative booklet given to participants and made a part of campus archives.
The first program, department, and GEC grant goes to:
• Emily Kane, Whitehouse Professor of Sociology, to support a program of sociology department assistantships in the area of community-based learning. The department hopes to develop a program of increasingly advanced-level community engagement experiences for sociology students that link their developing substantive and methodological knowledge with meaningful internships and research projects in the community.
View Comments