PearsonWidrig DanceTheater presents performance installation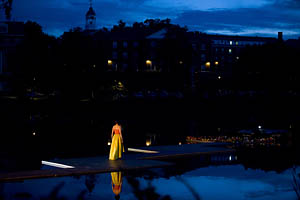 Celebrating the Bates Dance Festival's commitment to producing innovative outdoor events, PearsonWidrig DanceTheater returns to Maine this summer to create another magical site-specific performance installation, this time on and around Lake Andrews on the Bates College campus. The festival presents PearsonWidrig DanceTheater at 8 p.m. Thursday and Friday, Aug. 9 and 10, at Lake Andrews, 75 Russell St., Bates College.
For the past nine years the Bates Dance Festival has commissioned and produced two large-scale, site-specific works by PearsonWidrig DanceTheater. In 1997 A Curious Invasion enlivened the 80-acre Maine Audubon Society's Gilsland Farm Sanctuary in Falmouth. In 2000 If Wishes Were Horses, Beggars Would Ride filled all four floors of the Portland Museum of Art with dance, live music, photographs, videos and an art installation. To celebrate the festival's 25th anniversary PearsonWidrig Dance Theater has created a performance for the Bates campus. Incorporating 40 dancers, more than 20 singers and musicians, and youth and community members of all ages, this outdoor event will use sound, light, movement and inventive set pieces to enliven the night environment. Audience members are invited to stroll around the lake, discovering an array of performance events in unexpected places.
The evening culminates with a grand finale that promises to delight viewers of all ages. Pearson and Widrig, artistic directors of PearsonWidrig DanceTheater, have gained an international following for dance theater work that transforms the familiar into the mysterious, the subversive, and the intimate. Called "dance theater at its funniest and most compelling" by the leading Swiss newspaper Neue Zürcher Zeitung, they have been touring extensively throughout the United States, Europe, Latin America, India, Korea, Japan and New Zealand since 1987.Their work has been produced annually at major dance venues in New York City, including the Joyce Theater, the City Center Fall for Dance Festival and Central Park SummerStage.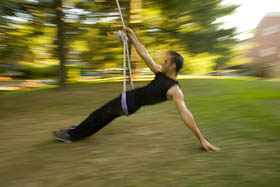 In addition to their concert work, Pearson and Widrig's site installations and community performance residencies combining dance, music, text, and video have taken them from rowboats in New York City's Central Park to the Great Lawn at Jacob's Pillow, to the Eiun-In Buddhist temple in Kyoto, Japan. Their 2006-07 activities center around the development and national tour of Katrina, Katrina: Love Letters to New Orleans, the company's newest dance/theater/video work involving the people affected by the devastating hurricanes of 2006.
In addition to main stage performances, the festival offers a selection of free and low-cost events. Complete information is available at the festival's website.
View Comments