Sociologist, PBS 'History Detectives' investigator to discuss Africa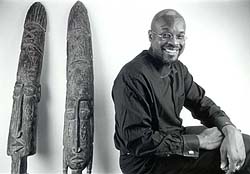 The 2007–08 Bates College Lecture Series opens with a discussion of Africa in the modern world by sociologist Tukufu Zuberi at 7 p.m. Wednesday, Oct. 3, in Bates' Chase Hall Lounge, 56 Campus Ave.
The event is open to the public at no cost. For more information, please call at 207-786-8293.
Zuberi is Lasry Family Professor of Race Relations, chair of the sociology department and director of the Center for Africana Studies at the University of Pennsylvania. He has been a visiting professor at Makerere University in Uganda and at the University of Dar-es-Salaam in Tanzania.
An expert in African American history and U.S. society, Zuberi is also a co-host and investigator on the PBS television program "History Detectives," a nationally broadcast series that uncovers mysteries of America's past.
He has spearheaded a variety of major research projects including the African Census Analysis Project, which aims to increase the usefulness and availability of census data to promote a better understanding of African demography. He edited Demography of South Africa, the first volume of the series A General Demography of Africa.
View Comments