Graduate programs in health care accept 89 percent of Bates applicants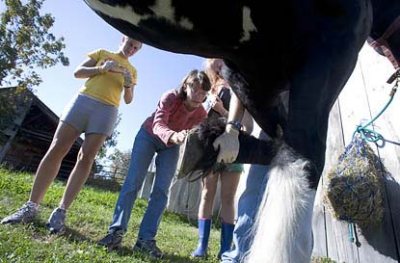 Eighty-nine percent of Bates College students who worked with the college's Medical Studies Committee in applying to health care-related graduate programs for fall 2007 matriculation were accepted.
According to a report issued this week by the committee, 32 of 36 Bates applicants to medical (allopathic) or osteopathic schools, or 89 percent, were accepted. Nationally, about 45 percent of applicants to allopathic schools were accepted.
A national acceptance rate for osteopathic schools wasn't available. However, in the 2007-08 academic year, 4,243 of 11,459 osteopathic school applicants, or 37 percent, were enrolled (as opposed to accepted; not all accepted applicants will enroll).
Fifteen out of 17 Bates applicants to other health-related programs, such as dental, nursing, nurse practitioner or veterinary medicine, were accepted, or 88 percent.
All told, 47 out of 53 Bates applicants who worked with the committee were accepted into graduate programs in the health professions.
Bates students are typically accepted into graduate programs in the health professions at a rate higher than the national average. This speaks to both the quality of Bates students and the way Bates prepares students for life after graduation.
During the 2006-07 academic year, the Bates Medical Studies Committee had more than 300 counseling appointments lasting at least 30 minutes with students and alumni interested in health careers. The college's medical studies program helps students satisfy medical school requirements by, for instance, guiding students with their course selections and helping set up job-shadowing or internship opportunities.
Nearly 91 percent of Bates students who worked with the committee and applied to allopathic schools were accepted for fall 2007. Sixty-three percent of all Bates students who applied to allopathic programs were accepted, whether or not they worked with the committee.
Nationally, in 2007, 18,858 of 42,315 applicants (44.6 percent) to allopathic medical schools were accepted, according to information from the American Association of Medical Colleges.
Lee Abrahamsen, chair of the Medical Studies Committee and an associate professor of biology, notes that students at Bates and elsewhere show an increasing interest in graduate programs in public health. "That reflects the growing perception of health as a global issue that has to be understood from many perspectives," she says.
In response, Bates has developed a four-course public health concentration as part of its new general education curriculum.
"Emerging infections, pollution, antibiotic resistance, who can or should be immunized — even laws that require car seats for children — are all public health issues," Abrahamsen notes. "So public health is multidisciplinary, and including it in the curriculum allows our students to use what they learn from courses, travel, community engagement and other experiences to approach important issues that affect everybody."
During the last two years, Bates applicants to allopathic and osteopathic programs have been 15 percent neuroscience majors, 24 percent biology majors, 29 percent biochemistry majors, 10 percent psychology and 22 percent other majors including art, philosophy, chemistry, English and religion.
View Comments