Traditional Middle Eastern dance troupe performs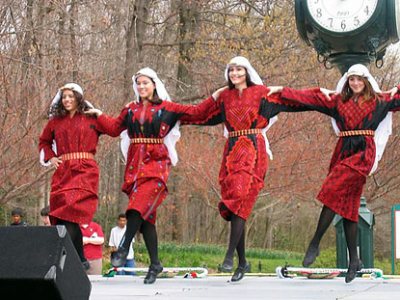 The DC-Dabkeh Troupe, which presents traditional Middle Eastern folk dances, performs at 8 p.m. Saturday, Dec. 8,  in the Olin Arts Center Concert Hall, 75 Russell St. The public is invited to attend this Palestinian cultural night at Bates free of charge.
The troupe was invited by the Bates organization Students for Peace and Justice in Palestine, and sponsors of the event include the Multicultural Center, Bates Modern Dance, the music department, Office of the Multifaith Chaplaincy and the Olin Arts Center. For more information, please call 207-786-6135.
Traditionally performed by men and women, dabkeh is a traditional dance in much of the Middle East. It is the national dance of Jordan, Lebanon, Syria and Palestine, and is found in Iraq under the name of "chobi." The DC-Dabkeh Troupe is a new ensemble composed of students and professionals dedicated to preserving this tradition.
The troupe aims to raise a positive awareness of the deep-rooted Palestinian culture in a climate that it considers to be filled with negative images and perceptions, and to keep Palestinian culture and heritage alive through another generation.
The leader of the dance, or "raas," improvises the type of dabkeh being danced, twirling a handkerchief or string of beads known as a mashba, while the rest of the dancers keep rhythm. Dancers also use their voices to show energy and punctuate the rhythm.
Dabkeh is typically accompanied by the "mijwiz," a double pipe; "tableh," drums; and "mizmar," a single-reed wind instrument. Oud and Tableh (drums) pieces will be played by Mohammad Kundos and Walaa Sbeit.
View Comments