Bates tennis player a semifinalist for national citizenship award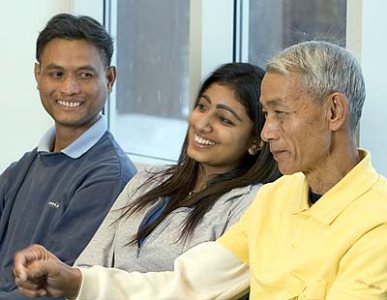 Bates College senior Mallika Raghavan has earned distinction as a semifinalist for The Coach Wooden Citizenship Cup, a national award recognizing the most outstanding role models among athletes.
Raghavan (Chappaqua, N.Y.) is one of 14 semifinalists for the Wooden Cup, and the only tennis player or Division III athlete on that list. There are five others who have earned finalist honors, one of whom will be announced on Jan. 24 as the Wooden Cup's college recipient.
A politics major at Bates, Raghavan has already acquired considerable experience doing volunteer work in the areas of health, poverty and development issues. As detailed by Arlene MacLeod, associate professor and chair of the politics department at Bates, while studying in Thailand Raghavan "worked with Thai organic jasmine rice farmers from Surin and helped them take their organic rice sales to a global market. This project helped rice farmers, but also educated students in the U.S. about fair trade. Mallika worked with a small group of students and an non-governmental organization (NGO) to bring two farmers from Surin to the Northeast and California to speak about Thailand and fair trade. She has also worked with the dining services at Bates to institute Fair Trade Rice on a regular basis."
Raghavan has earned a reputation as a hard worker and gritty competitor.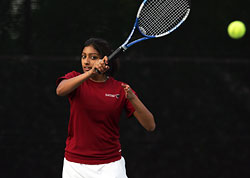 Raghavan, MacLeod continues, "has also worked with an NGO called Pratham that works to eradicate illiteracy and provide education for poor children in India. In another example, Mallika, in 2004, after the tsunami hit Southeast Asia and Asia, started a small volunteer project called Vastra (meaning clothing in Hindi). Working with Share and Care, a small NGO that sends needed supplies to India, she collected clothing for victims and sent them to India. The project was initially limited to close family and friends, but the project gained recognition in India Abroad (an Indian-American newspaper that circulates around North America) and people from all across the United States sent clothing to her home for distribution. She collected clothing (about 2,000 pounds) and all of it was sent to India."
Also while in Thailand, MacLeod writes, Raghavan "worked with a number of HIV/AIDS communities and the Mahasarakham Hospital to understand how rural areas were affected. She conducted interviews as well as wrote an article in the NGO ENGAGE's annual publication. She worked to connect these HIV communities with advocates in Northeast Thailand, whom she had met through her study abroad program.
"Mallika is a considerate, thoughtful and very hard-working person, and I think she's a great example of what Bates students stand for and can achieve," wrote MacLeod.
Raghavan is co-captain of the women's tennis team at Bates and will earn her fourth varsity letter this year. In a defining moment of her tennis career, she showed grit in the team's final match of the fall 2005 season, winning the deciding singles match in a tiebreaker to lift Bates to a 5-4 victory at Babson.
"Mallika prepared and worked to be able to compete with the upper echelon players at her position," said Bates head tennis coach Paul Gastonguay. "She developed parts of her game that allowed her to become an aggressive, all-court player. I believe she is the ultimate example of an athlete who shares her talents and abilities to help others."
View Comments