Bates presents acclaimed multimedia piece by DJ Spooky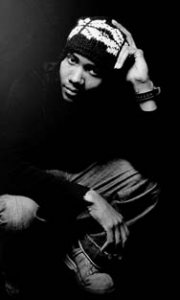 Paul D. Miller, the musician, essayist and media artist also known as DJ Spooky, presents a live performance of his internationally renowned multimedia project Rebirth of a Nation at 8 p.m. Saturday, Feb. 2, at Lewiston Middle School, 75 Central Ave.
Co-sponsored by departments and programs at Bates College including the Bates College Museum of Art and the Multicultural Center, the performance will be followed by a panel discussion featuring the artist with Mark Bessire, director of the art museum; Dale Chapman, assistant professor of music at Bates; and Charles Nero, associate professor of rhetoric.
Admission to the Bates event is $10 for general seating. For tickets, please follow this link. For more information contact 207-786-6135 or olinarts@bates.edu.
The performance takes place just days before the 93rd anniversary of the release of Birth of a Nation, the silent film by D.W. Griffith whose racist interpretations of American history during and after the Civil War have been a source of outrage for nearly a century. Miller, of New York, adapted Griffith's film for Rebirth of A Nation.
"With the news dominated by broken treaties, ethnic oppression, raw power grabs and security threats, the time seems just right for revisiting" the film, Miller writes in his program notes. "There are so many resonances with contemporary culture's indefatigable sense of shock and surprise."
His piece, Miller writes, "posits no answers, only more questions."
Starting with a newly restored print of Griffith's film, Miller edited, manipulated and remixed it. Combining this footage with his original score, as recorded by the Kronos Quartet, Miller now performs a live mix, creating a unique version of Rebirth of a Nation at each show.
The piece was commissioned by and performed at the Lincoln Center Festival, New York; the Festival d'Automne à Paris; the Vienna Festival; and the Spoleto Festival USA. It has been presented at the Museum of Contemporary Art in Chicago; the Romaeuropa Festival in Italy; Harvard University; the Herod Atticus amphitheater in Athens; and many other venues.
Miller is best-known by his "constructed persona," "DJ Spooky That Subliminal Kid." He has recorded a huge volume of music, solo and in collaboration with artists as diverse as Iannis Xenakis, Kool Keith a.k.a. Doctor Octagon, Pierre Boulez, Killa Priest from Wu-Tang Clan, Steve Reich, Yoko Ono and Sonic Youth's Thurston Moore.
He scored the 1998 film Slam, which starred critically acclaimed poet Saul Williams and received awards from the Cannes and Sundance festivals. In 2006, Miller received access to the vaults of the classic reggae label Trojan Records, resulting in his landmark Sanctuary Records compilation In Fine Style, DJ Spooky Presents 50,000 Volts of Trojan Records!!!
Among his other recordings are Optometry (Thirsty Ear, 2002), a jazz project featuring Matthew Shipp, William Parker, Joe McPhee, Carl Hancock Rux, Daniel Bernard Roumain and High Priest from Anti-Pop Consortium; Dubtometry (Thirsty Ear, 2003), a dub remix of the same, featuring Lee "Scratch" Perry and Mad Professor; and Riddim Clash (Play, 2004), a collaboration with Twilight Dub Sound System.
Miller took part in the 2007 Venice Bienniale with the video installation New York is Now, which originally appeared at the Luanda Triennial in Angola in 2006.
Miller has written for The Village Voice, The Source, Artforum, Raygun, Rap Pages, Paper Magazine and other periodicals. With noted African American poet Steve Cannon, he is co-publisher of A Gathering of Tribes, a magazine dedicated to new works by writers from a multicultural context. Miller was the first editor-at-large of the cutting-edge digital media magazine, Artbyte: The Magazine of Digital Culture.
His first collection of essays, Rhythm Science (MIT Press, 2004), was included in several "best books of 2004" lists, including those of the Guardian (UK) and Publishers Weekly. Sound Unbound, an anthology of writings on sound art and multi-media edited by Miller, will be published in paperback by MIT Press in May.
Along with the Museum of Art and Multicultural Center, sponsoring Miller's Bates engagement are the college's departments of theater and rhetoric, and of music; the program in environmental studies; the offices of the dean of the faculty, student activities and admissions; the Bates Dance Festival and the Harward Center for Community Partnerships.
View Comments