Expert on vice presidency visits Bates to discuss Muskie's 1968 run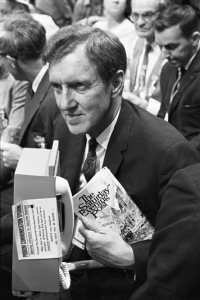 Joel Goldstein, an expert on the U.S. vice presidency, presents the lecture Campaigning for America: Edmund S. Muskie's 1968 Vice Presidential Campaign at 4:30 p.m. Thursday, April 3, in the Edmund S. Muskie Archives and Special Collections Library at Bates College, 70 Campus Ave.
The talk comes during the 40th anniversary year of Muskie's vice-presidential campaign and the 50th anniversary of his election to the U.S. Senate. The event is open to the public at no cost. For more information, please contact 207-786-6272.
Goldstein, the Vincent C. Immel Professor of Law at St. Louis University, is currently a visiting professor at the University of Maine School of Law and the Muskie School of Public Service. He has written books, numerous chapters and journal articles on the U.S. executive branch, constitutional law and admiralty law.
Goldstein may be best-known as an expert on the vice presidency. He has written widely on the topic and is frequently interviewed on it, and has consulted on vice presidential selections.
The late Muskie, a member of the Bates class of 1936, served as Maine governor, U.S. senator, vice presidential and presidential candidate, and U.S. secretary of state under President Jimmy Carter. In the Senate, he authored landmark environmental legislation including the Clean Air and Clean Water acts, regarded as two of the most important bills of the 20th century.
In 1968 Muskie ran with Democratic presidential candidate and then-Vice President Hubert Humphrey. "It is worth considering the example Muskie set when he, for the first time, campaigned throughout America and America discovered him," says Goldstein.
"His vice-presidential campaign was unique in the annals of modern national campaigns. He spent an unusual amount of time articulating basic American values and imploring his audience to reconnect with them."
The campaign came at a time, Goldstein explains, when many Americans were losing faith in their government and in politics. "Muskie, in speech after speech, defended the political system and challenged Americans to trust not only their government, but each other," he says.
As a senator from Maine, a state with few electoral votes, Muskie was an unlikely choice for running mate, Goldstein says. Presidential candidates tended to choose nationally prominent politicians or those from states commanding a large number of electoral votes.
"Muskie's campaign helped change the paradigm in vice-presidential selection away from traditional ticket-balancing criteria" and toward presidential qualities "that would impress the electorate as such."
Goldstein's first book, The Modern American Vice Presidency: The Transformation of a Political Institution (Princeton University Press, 1982), evolved from his doctoral dissertation. He is currently writing a book on the vice presidency as it has developed during the last 30 years. He is also working on studies of Muskie and of U.S. Supreme Court Justice Louis Brandeis.
Goldstein received a doctorate in political science at Oxford University, which he attended as a Rhodes Scholar, and a law degree from Harvard Law School. After Harvard he was a law clerk for Judge W. Arthur Garrity Jr. of the Federal District Court in Massachusetts, and later practiced admiralty law for 12 years at Goldstein and Price in St. Louis.
---
Related Stories
Mar.28:
New exhibit includes rare photos of U.S. Sen. Edmund S. Muskie '36
Mar.27:
Archives to receive papers of family prominent in history of Bates, Maine