When newly elected Sen. Angus King, an Independent from Maine, was preparing to move into his office in the Dirksen Senate Office Building in 2013, he was offered a choice of desks. The one King picked is big and broad, with slightly curved legs that square off in an angle at the top, interrupting its otherwise perfectly rectangular shape, and end in an almost claw-like foot.
The legs are distinctive but even more so is the desk's rich legacy, having served as the desk of Edmund Sixtus Muskie '36 during his time in the U.S. Senate.
The desk was command central as Muskie was working on landmark legislation, including the Clean Air and Clean Water acts, the latter of which will have its 50th anniversary this fall. Muskie chaired the Senate Subcommittee on Environmental Pollution, a role that famously earned him the nickname "Mr. Clean."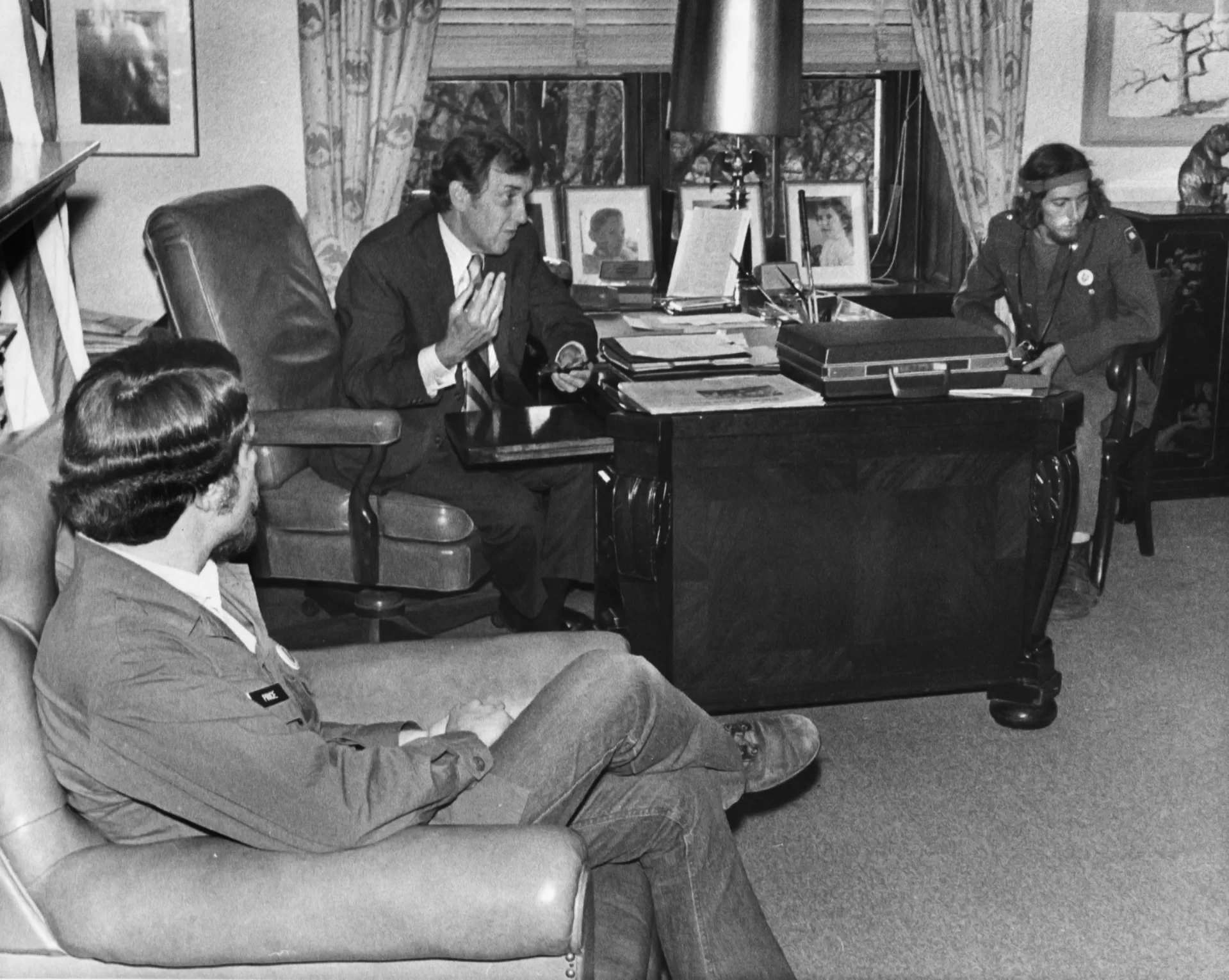 "There was no question in my mind this was the right choice," King says. "If you're ever given the option to use Edmund Muskie's desk, you take it!"
And other Maine politicians have done exactly so: When Muskie left the Senate in 1980, after more than two decades, to become Secretary of State to President Jimmy Carter, his former assistant from the early 1960s, George Mitchell, then a federal judge in Maine, was appointed to fill Muskie's seat in the Senate. King says Mitchell took the Muskie desk as well.
Then, when Mitchell left the Senate in 1995 and was succeeded by Olympia Snowe, she moved the desk into her office. At Muskie's memorial service in 1996, Snowe described coming to Washington in 1979 as the new congresswoman from Maine and being touched by Muskie's kindness and grateful for his advice. "We were congressional colleagues for only a year and a half, but our friendship lasted throughout the years."
The furnishings and decor around it changed — Muskie liked to hold forth from behind the desk, with visitors grouped around it in chairs, while Snowe was typically pictured in her office sitting side by side with guests in more elegant striped gold and red high backed chairs — but the desk of the senators from Maine remained the same.
The parties did not though. As was Muskie, Mitchell is a Democrat but Snowe is a Republican.
"This desk's bipartisan (now tripartisan!) history is one of my favorite features," says King. "It's a reminder that I stand on the shoulders of giants who made it their habit to work across party lines to deliver results for our state and our nation. I'm humbled by the legacy of accomplishments left behind by the leaders who came before me."
Muskie, who died in 1996 just shy of his 82nd birthday, would have turned 108 this week, on March 28. (Late March birthdays are another thing the two former governors of Maine have in common: King turned 78 on March 31). Muskie grew up the son of immigrants in Rumford, where his father was a tailor, before arriving at Bates, conscious of his lack of wealth initially and needing to work his way through college, like many of his classmates during the Depression. By the time he graduated cum laude and Phi Beta Kappa in 1936, he was class president and a skilled and confident debater.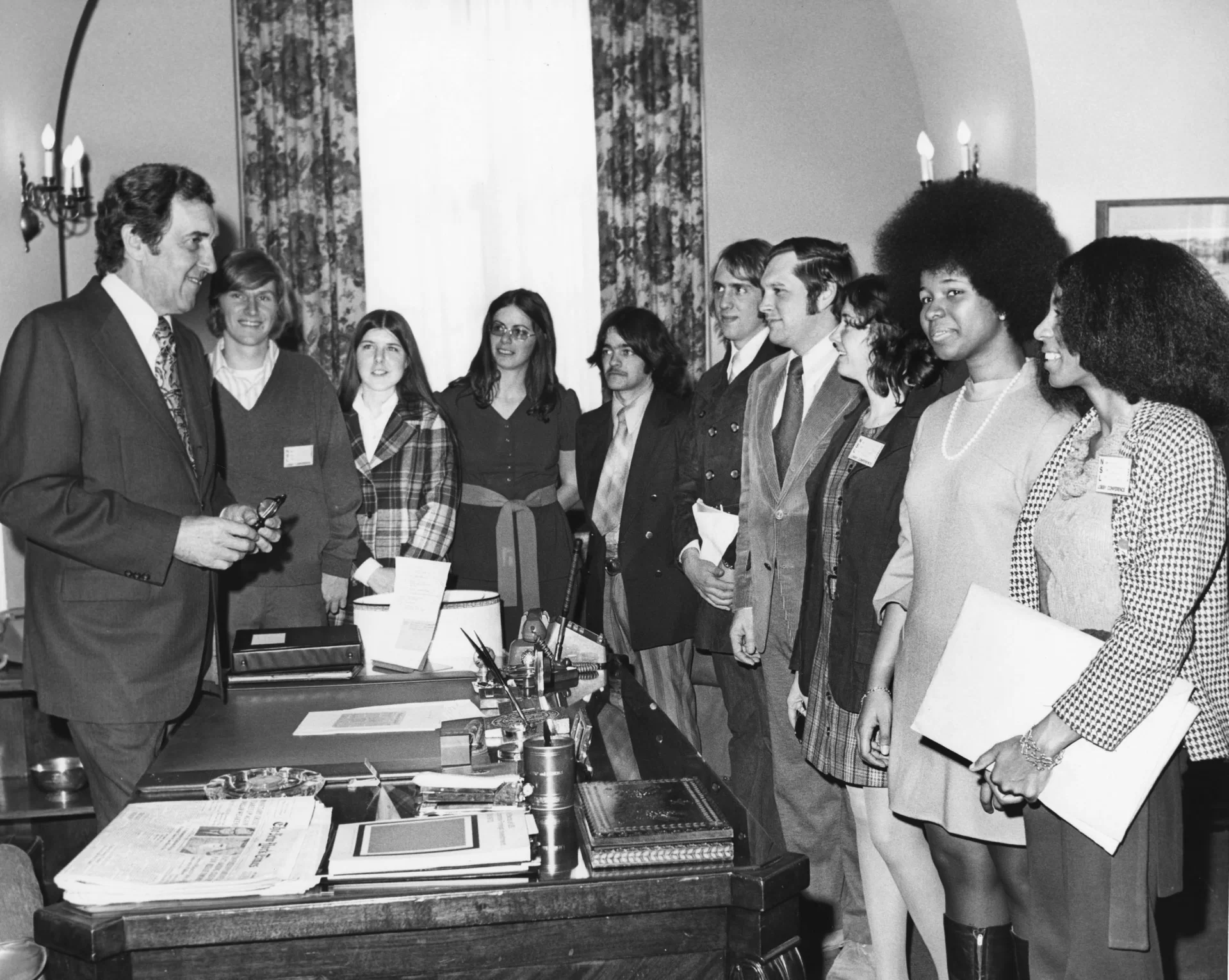 In mid-March, with the Russian invasion of Ukraine raging, King, an adroit user of Instagram who writes often soulful captions for his own photography, posted a sunlit shot of his office, showing part of the desk, his bust of Lincoln, and the rich red walls behind it, hung with paintings by Maine artists (Marguerite Robichaux and Linden Frederick). The scene, and the moment in time, prompted him to share some perspective in light of the Ukrainian crisis. "In difficult times like these," King wrote on the post. "I find temporary refuge in history."
That refuge included considering Muskie's feat in leading Maine, and the nation, "into the environmental era," King wrote, noting that Muskie managed the first Clean Water Act to a "unanimous (!) vote in the Senate. And came to embody the idea of integrity in politics."
There's no question that Muskie worked at this desk as he crafted the Clean Water Act, King says. "Looking back on it, the fact that Muskie got this bill enacted into law speaks to his relentless perseverance. He held hearing after hearing on this subject, drawing from both scientific data and his personal experiences in Rumford to advocate passionately for the importance of clean water in every community across the country."
Rumford sits on a bend of the Androscoggin River, so in his youth, Muskie could literally see (and smell) the water and air pollution generated by the small city's pulp and paper mills.
"He eventually wore down his opposition, and the bill passed the Senate unanimously," King says. "When I'm working on the toughest issues we face and feel like I'm at an impasse, Muskie's example reminds me to keep going."
It's a true working desk then, not ostentatious. It's solid. Like Muskie. An aide once said that 'sham and pretense grate on him like sandpaper.'"
Some mysteries remain about the desk. No one seems to know exactly what kind of wood it is, but King says that "it's from the early 20th century, and had been in the Russell Senate Office Building originally." It's double-sided, so it could accommodate two people sitting across from each other, with a footrest for each. "I've never used the desk for that purpose," King says. "So I get extra room to stretch out my legs." (A nice feature when you're 6-foot-2.)
It's a true working desk then, and despite the turn of its legs — which make it easy to identify in historic photos, like the one of Supreme Court Justice Elena Kagan making her way into Snowe's office for a meeting when she was still a nominee — it is not ostentatious. It's solid. Like Muskie, who The New York Times described in its obituary as "above all, a creature of the Senate. A blunt man, with a hair trigger temper that detonated often, he nonetheless became one of the Senate's most influential members. An aide once said that 'sham and pretense grate on him like sandpaper.'"
Mitchell was stunned and intimidated. "I couldn't control the shaking of my legs even though I was sitting down.
Note the mention of the temper, which was legendary. The first time George Mitchell glimpsed the desk that would eventually become his, he also saw the temper. On March 26, 1996, Mitchell shared his memory as part of the many Congressional memorial tributes to the former senator from Maine. Mitchell recalled going for an interview for a job as an assistant in Muskie's office. He was fresh out of law school. Mitchell had been advised to prepare a memorandum on the legal aspects of an issue that was being considered by the Senate.
"I thought the memo was pretty good, but unknowingly I had made a huge mistake," Mitchell said. "I reached a conclusion that was the opposite of the Senator's. I had never met him but he didn't bother with any small talk. Within minutes of our introduction, he unleashed a ferocious cross-examination. He came out from behind his desk, he towered over me, he shook his finger at me and he took my memo apart, line by line."
Mitchell was stunned and intimidated. "I couldn't control the shaking of my legs even though I was sitting down. I tried as best as I could to explain my point of view and we had what you might call a lively discussion. As I left he said, 'The next time you come in here, you'll be better prepared.' That's how I learned I'd been hired, and I sure was better prepared the next time."
King says he tells visitors about the desk's history, "often and eagerly, without any prompting."
A few years ago, King ran into Ned Muskie, the youngest of Ed and Jane's Muskie's five children, in Washington, D.C., and invited him for lunch in the Senate dining room. "I said that would be incredible," Ned Muskie says. "Because I have wonderful memories of Dad taking us there. Back then, Dad was like a rock star, even among other senators. They all wanted to interact with Dad. So our lunches would be interrupted by people like Hubert Humphrey or Sam Nunn."
But before King and Ned Muskie went to lunch, they stopped by King's office. Muskie remembers King telling him, "I have something special to show you. And sure enough, it was the desk."
It was set at a different angle — "Dad had it in a very conventional way, at the end of the room" — but Ned knew it immediately. "Hell yeah," he says. He told King about his own history with the desk.
"I knew this desk from when I was a very little boy. Very similar to John-John Kennedy, who would sit on the stretcher below his father's desk, I also did the same thing. Dad would be on the phone and I'd crawl under the desk. I'd tickle his feet or do something silly like that, so I have very fond memories of the desk."
Ned's four siblings would sometimes join him in play under and around the desk while his father worked. "How Muskie ever got the Clean Water Act passed with kids darting back and forth, I'll never know!" King says.
King considers the desk timeless. "Not only because it's been passed down from senator to senator, but because the impact of the work done at this desk still affects Maine people today. Just look at the Clean Water Act: Mainers depend on the ocean, lakes, and rivers to live and work. Without this historic legislation, our waterways would not be the same today.
"Thankfully, Maine had Ed Muskie working for us. So yes, the desk is timeless. It's a piece of history, and I'm honored to continue the tradition."