New Maine Folk Art Trail leads to Bates art museum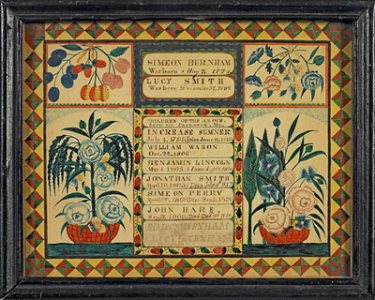 An exhibition of delicate works on paper and handcrafted document boxes from the 18th and 19th centuries Maine opens Saturday, June 7, at the Bates College Museum of Art, located in Olin Arts Center, 75 Russell St.
Flourishing Folk: New England Decorated Works on Paper and Document Boxes from the Deborah N. Isaacson Trust represents Bates in the Maine Folk Art Trail, a collaborative effort among 11 museums and historical societies statewide to guide visitors to the best of Maine folk art — work produced by ordinary people without professional training.
The exhibition runs through Dec. 14 in the Bates museum's downstairs gallery. The museum is open from 10 a.m. to 5 p.m. Tuesday through Saturday and the public is welcome free of charge. For more information, please call 207-786-6158 or visit the museum Web site.
Maine is a repository for some of the nation's best folk art, but much of this work is seldom seen. Maine collections represent virtually every form of folk art: portraiture, landscapes, still lifes, decorated furniture, schoolgirl art, trade signs, pottery, marine arts, weathervanes and other sculpture, to name just a few.
Thanks to the coordinated statewide exhibition, Mainers and visitors will be able to follow the Maine Folk Art Trail from York to Lewiston to Searsport to see samplings from these diverse collections. Participating institutions also include the Sabbathday Lake Shaker Village, Colby College Museum of Art and the Maine State Museum.
A 144-page hardcover book will be published this month in conjunction with the exhibits and will be available for sale at each museum location and from Down East Books, in Camden. Visit the Maine Folk Art Trail Web site for more information.
Bates' Flourishing Folk exhibition highlights works from the Deborah N. Isaacson Trust. On display are beautifully decorated family records, memorials, presentation pieces and penmanship exercises, as well as ornate document boxes. The exhibition also includes ream sheet prints, rare and attractive woodblock prints that early New England paper companies used to label their products.
"These fine works on paper offer a glimpse into family and social practices in New England that have roots in European traditions," says Bill Low, assistant curator at the Bates museum and organizer of the exhibition.
"The Isaacson Trust is an important privately owned collection of diverse and fascinating objects collected over the last 30 or 40 years," Low says. "The works on paper in the collection have a regional focus and pieces in the exhibition are primarily from northern New England."
He selected works on or relating to paper from the Isaacson Trust to emphasize a connection with the Bates museum, which focuses on artworks on paper, including the Marsden Hartley Memorial Collection of drawings and photographs by or related to the pioneering American artist.
On display during the same period is Stairway to Heaven: From Chinese Streets to Monuments and Skyscrapers. This exhibition showcases work by 17 Chinese artists who examine how economic reform, a new influx of personal wealth and rapid industrialization have changed the urban environment.
Including sculpture and video as well as still photographs, Stairway to Heaven uses street life, the proliferation of skyscrapers and the shifting meanings of historic monuments as avenues for exploring China's stunning transformation during the past three decades.
View Comments