Bates names new vice president for college advancement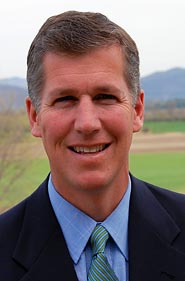 Bates College has appointed Kelly Kerner as vice president for college advancement, a role that oversees the college's fundraising, alumni relations and communications operations.
Kerner, most recently director of leadership gifts at Middlebury College, succeeds Victoria Devlin, who retired in September 2007 after nine years of service as vice president.
"We are extremely pleased to announce that Kelly Kerner will be joining Bates," said Bates President Elaine Tuttle Hansen. "Those who have met Kelly attributed their enthusiasm about him to a variety of factors, including his proven passion for philanthropy, his understanding of the liberal arts mission and the entire advancement process, and his broad and easy rapport with a wide variety of people. The reactions on campus and from Bates trustees only add to my own sense of Kelly's great ability, readiness and fit for Bates at this time."
Kerner will plan and direct Bates initiatives in annual, capital and endowment fundraising. He will also oversee alumni programming for 22,500 Bates graduates worldwide and guide the college's strategies in media relations and communications.
"To be part of a place with the trajectory that Bates is experiencing is something anyone would desire," Kerner said. "I very much look forward to working with the president, the trustees and the advancement staff."
Prior to his 14 years at Middlebury, Kerner spent three years at the University of Portland in Oregon as a development director and athletics marketing director. He earned a bachelor's degree in broadcast journalism from the University of Colorado, Boulder, and also holds an associate degree in humanities from Foothill College in Los Altos, Calif.
Annually, Bates raises more than $14 million from more than 9,000 donors. In 2006, Bates completed a comprehensive fundraising campaign, raising nearly $121 million from 18,813 donors, including alumni, parents, friends, corporations and foundations. The Bates endowment is approximately $275 million.
Bates College is widely regarded as one of the finest U.S. liberal arts colleges. Alumni frequently cite the capacities they developed at Bates for critical assessment, analysis, expression, aesthetic sensibility and independent thought. About 40 percent of students participate in career internships, and more than two-thirds of recent graduates enroll in graduate study within 10 years after graduation. Bates was founded in 1855, and Bates graduates have always included men and women from diverse racial, ethnic and religious backgrounds.
View Comments