Imber to address 2008 Convocation gathering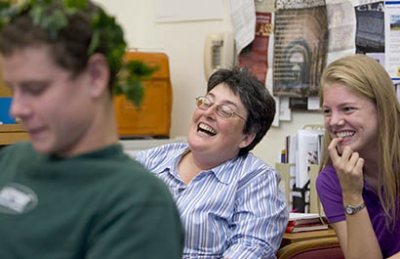 Celebrating its 154th academic year and the first day of classes, the Bates community will gather for Convocation at 4:10 p.m., Wednesday, Sept. 3, on the historic Quad near Campus Avenue.
Margaret A. Imber, associate professor of classical and medieval studies, will deliver the 2008 Convocation address.
Also speaking will be President Elaine Tuttle Hansen, who will update the College planning process that began last fall. In addition, Hansen will describe "Nourishing Mind and Body: Bates Contemplates Food," the 2008-09 College-wide initiative focusing on food and food systems.
In "How Not to Fall in Love," her address to the incoming Class of 2012, Imber will tell students how to achieve a great education by suggesting, tongue-in-cheek, ways they might not get a great education. The rhetorical device, focusing on the negative to highlight the affirmative, is called a via negativa.
Familiar in theology, it's where "if you can't explain how to do something, then you explain how not to do it," explained Imber.
Employing such a rhetorical device is part of effective public speaking, "which is, I think, always better when dry wit runs through it." said Imber. And tongue-in-cheek wit, she said, falls short of irony. "True irony requires a level of detachment from the human comedy. I'm more sentimental, I think. I'm capable of recognizing my own foibles."
All wit and irony aside, Imber explained her Convocation "shtick": "It's about why you come to college: to fall in love with a problem, idea or poem. Something that engages your soul." Her address, she said, will also respond in a manner to a recent essay in the Wall Street Journal by Charles Murray, co-author of the Bell Curve and the forthcoming book, Real Education, who suggests that a college education should focus on CPA-like certifications, not degrees.
During her address, Imber will disagree. A college education should result in "a door opening in your soul and your mind crossing the threshold," she said.
Imber earned a B.A. in classics from the University of Chicago. After what she calls a "detour" — a law degree from the University of Michigan and a legal practice in California that included work as an assistant U.S. attorney — Imber earned a doctorate in classics from Stanford University.
A member of the Bates faculty since 1997, she studies the social history of Roman rhetoric and law and teaches courses in ancient rhetoric, Roman civilization and Athenian litigation, as well as Latin and Greek language courses.
– Office of Communications and Media Relations
View Comments