NBC affiliate reports on $2.5 million gift for local, natural, organic foods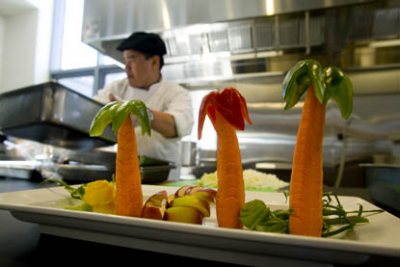 Bates' purchase of local food is helping Maine farmers and food providers. The investment earnings from a [intlink id="5740″ type="post"]$2.5 million donation[/intlink] earmarked for Dining Services is being used strictly to buy more locally grown natural and organic foods.
To capture that story, a video news team from WCSH-TV6, Portland's NBC affiliate, went first to Blackie's Farm Fresh Produce, a greengrocer in Auburn, and then to Bates, to interview Director of Dining Services Christine Schwartz. "They have great product, great services," said Schwartz of Blackie's." They have been very supportive of us, and we of them."
For the first time, many locals learned Blackie's real name: He is Norman Labbe. He has owned his all-weather farm stand for 22 years. Before that, his family owned a grocery store in Lewiston for 68 years.
View Comments