'Omnivore's Dilemma' author Pollan to speak at Bates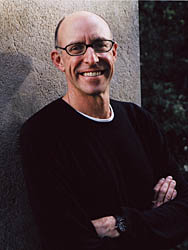 Michael Pollan, whose best-selling books scrutinizing the impacts of the "food-industrial complex" have fueled a nationwide fascination with Americans' food choices, speaks at Bates College at 7:30 p.m. Monday, Oct. 27, in the College Chapel, College Street.
Titled In Defense of Food: The Omnivore's Solution, Pollan's address is open to the public at no charge. A reception and book signing will follow. The annual Otis Lecture, the event is made possible by the Philip J. Otis Endowment at Bates.
One of the most prominent advocates for changing the culture of eating in the United States, Pollan has expressed a food philosophy stunning in its reach and simplicity: "Eat food. Not too much. Mostly plants."
In The Botany of Desire (Random House, 2001), the influential Omnivore's Dilemma (Penguin Press, 2006), and this year's In Defense of Food (Penguin Press, 2008), Pollan not only challenges us to ponder our diet, but reminds us of our dependence on the land for our sustenance.
In "The Omnivore's Dilemma," he follows each of the food chains that sustain us — industrial food, organic or alternative food, and food we forage ourselves — from the source to a final meal, while focusing on our relationships with the handful of plant and animal species we depend on. Each time Pollan sits down to a meal, he traces the origins of everything on the plate, revealing what we unwittingly ingest and how our taste for particular foods and flavors reflects our evolutionary inheritance.
His follow-up, "In Defense of Food," is an indictment of a conspiracy of marketers, nutritional scientists and mass-producers of "edible foodlike substances" that, in the Western diet, has replaced food with nutrients and common sense with confusion. The result is what Michael Pollan calls "the American paradox": The more we worry about nutrition, the less healthy we seem to become.
"Pollan's critique of the American food industry and the plague of obesity, diabetes, coronary disease, cancer and untimely death for which it is largely responsible is comparable to the work of Rachel Carson as a contribution to the history of human self-destruction, for the food fabricators could not have done their work without our complicity any more than the environmental polluters could have done theirs," Jacob Epstein wrote in a review of "In Defense of Food" for The New York Review of Books.
Pollan has received numerous awards for his work. "The Omnivore's Dilemma" was named one of the 10 best books of 2006 by The New York Times and The Washington Post, and won the 2007 James Beard Foundation Award for best food writing.
Pollan grew up in Woodbury, N.Y., and was introduced to gardening by his grandfather. He attended Bennington College and received a master's degree in American literature from Columbia University. He served as executive editor for Harper's Magazine for many years and is now the Knight Professor of Science and Journalism at the University of California, Berkeley.
The event coincides with Nourishing Body and Mind: Bates Contemplates Food, a dominant theme of the 2008-09 academic year. Including a Web site, events and other programming, "Bates Contemplates Food" is an initiative to raise consciousness about the consequences of our food choices and, in particular, about Bates' own efforts to feed the campus in a healthy, sustainable way.
The annual Otis Lecture at Bates is funded by the Philip J. Otis Endowment, established in 1996 by a gift from Margaret V.B. and C. Angus Wurtele in memory of their son, Philip, a member of the class of 1995 who died attempting to rescue injured climbers on Mount Rainier.
In recognition of Otis' appreciation for nature, the endowment helps support Bates programs with an environmental focus, in particular those exploring the spiritual and moral dimensions of humanity's relationship with the environment.
View Comments