Fare to remember: Harvest Meal 2008
By Becca Chacko '10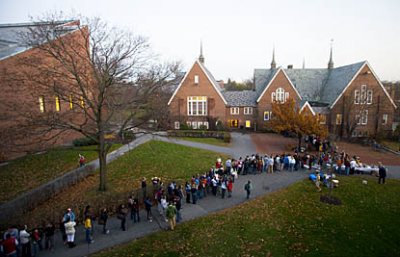 One of the campus community's favorite gatherings, Bates' annual Harvest Meal is nearly upon us.
The buffet dinner starts at 4:30 p.m. Wednesday, Nov. 19, in Commons. Dessert and a "Trashion Fashion Show," a green-minded event where Bates people display apparel they have made from discarded materials, follows in the Gray Athletic Building. For faculty and staff, admission is $12 for adults and $6 for children aged 7–12 years. Children under 7 enter free. Tickets are sale at Milt's Market in the new Commons building.
The Harvest Meal theme is "Bates Fare," a play on words indicating that the dinner will provide a traditional county-fair feel.
A horse and cart will take diners around campus, and the treats include fresh-popped kettle corn and Capt'n Eli's sodas — caffeine-free, nonalcoholic products of Portland's Shipyard Brewery made with real cane and brown sugars. Flavors range from Strawberry Pop to Parrot Punch to traditional root beer.
"Given Bates' celebration of local, natural and organic foods, the theme seemed to fit," says Christine Schwartz, director of dining services.
Opened last February, Bates' new Commons will sport traditional fall decor, such as colorful leaves and pine foliage, for the dinner. Musicians and other performers will be featured.
Beginning with spiced pumpkin soup and seafood chowder, the buffet meal includes traditional Thanksgiving favorites like roast turkey breast; slow-roasted pot roast with gravy; onions, carrots and fluffy mashed Maine potatoes. Such longtime New England specialties as root vegetables, lobster-stuffed haddock and Cape Cod cranberry sauce will round out the meal. Diners will also enjoy a sumptuous array of gourmet cheeses and seasonal fruit, along with deviled eggs and bread and butter pickles.
For dessert? Pie, of course: pumpkin, blueberry, chocolate cream, lemon meringue and pecan toffee. Or you can sample some of Commons' own baked Alaska, ice cream in a hot pastry covering – as a special treat, shaped like Maine.
The move of the community event from the Old Commons to the new, Schwartz says, won't affect the experience. "We plan to use the same type of set-up as we did in the past and have not changed the menu and mood, so I think that in the end the event will be much the same."
The "Trashion Fashion Show," held in the Gray Cage along with dessert, will emphasize the Bates flair for "green" creativity. The annual event features students and staff designing and modeling clothes made from recycled materials. With clothing such as skirts from trash bags, earrings from soda tabs, playing-card capes and take-out container hats, the fashion show emphasizes alternative uses for items that might otherwise have gone to landfills.
View Comments