Chinese, Indonesian dramas conclude Global Lens films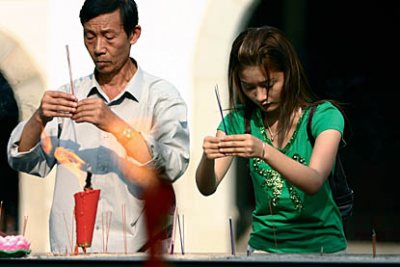 The Global Lens 2008 film series, a touring program of narrative feature films from Latin America, the Middle East, Africa, Europe and Asia, concludes at Bates College this week with 7 p.m. screenings of the Chinese drama Luxury Car on Wednesday, Dec. 3, and the Indonesian film Opera Jawa on Thursday, Dec. 4, both in Room 105, Olin Arts Center.
The arts center is located at 75 Russell St. The Bates College Museum of Art presents the series in cooperation with the college's Multicultural Center. The public is welcome to all of the films at no charge. For more information, please call 207-786-6158.
The series is assembled and distributed by the Global Film Initiative, a U.S.–based nonprofit organization promoting independent filmmaking in Africa, Asia, Latin America and the Middle East. Founded in 2002 with the mission of promoting cross-cultural understanding through cinema, each year the initiative not only presents the film series but awards grants to deserving filmmakers from around the world. For more information, please visit the initiative's Web site.
In the emotionally taut Luxury Car, Li Qi Ming (played by Wu You Cai) travels from his small village to the city of Wuban, determined to fulfill his wife's last wish to see her son. But instead of finding his son, he discovers his daughter (Tian Yuan) working as a karaoke bar escort, forcing him to come to terms with their long-estranged relationship and the tenuous future of his family.
In his third feature film, director Wang Chao represents the painful reality of thousands of parents who have lost contact with their children through rural exodus and political upheaval in China.
Opera Jawa is the story of Setyo and Siti, who live a peaceful life as husband and wife, selling earthenware in their village. But when Setyo is called away on business, a flirtatious butcher, Ludiro, takes advantage of Siti's loneliness to seduce her. Though tempted by song and dance, Siti initially refuses his advances — but then acquiesces in a moment of weakness, setting the stage for an epic battle between the two men.
Filming in lush forests and on pristine beaches of Java, the well-established director Garin Nugroho bases his deeply imagistic and dazzling visual narrative on the "The Abduction of Sita," from the Hindu epic The Ramayana.
The Global Lens series, now in its fifth year, premiered at the Museum of Modern Art in New York in January and is traveling around the country to more than 40 locations. Read more about the films and view the series trailer and individual film trailers.
View Comments