Rob Farnsworth pushes students to find the write way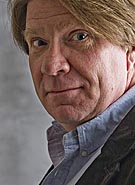 Most students who study creative writing with Robert Farnsworth find themselves in a relationship measured in years, not semesters.
A widely published poet and member of the Bates faculty since 1990, Farnsworth sees that relationship as a two- or three-year conversation conducted through "office-hour meetings, workshop discussions, scribbling on manuscripts that students give me," he explains.
"I try to pay close attention to what they initially feel they want to do, and what challenges can be put in front of them to widen the possibilities for their writing, to give them some opportunity to see themselves into territories that they did not know existed for them."
Farnsworth is the right teacher for young writers still seeking their voices, says Gabe Fried '96, winner of the 2007 Kathryn A. Morton Prize for his debut collection of poems, Making the New Lamb Take.
"Great teachers — of anything — recognize the strengths of the students in front of them," says Fried. "Rob allowed us to explore our strengths and ambitions while making sure we could live with our shortcomings."
This mentoring approach, aspirational and challenging, has elicited enduring appreciation from the ranks of Farnsworth proteges. In fact, support from students resulted in Farnworth's receiving the 2008 Kroepsch Award for Excellence in Teaching, an honor determined through the votes of past and present students.
The award joined a list of credentials that includes a PEN New England Discovery Award, a 2006 summer residency at the Frost Place in Franconia, N.H., and the role of featured speaker at Bates' 2006 Convocation — again through a student vote, this time that of the departing Class of 2006.
View Comments