Gamelan Orchestra performance includes student composition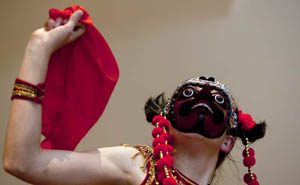 An original composition by a Bates senior from West Virginia is featured in a concert by the Bates College Gamelan Orchestra at 8 p.m. Friday, Dec. 11, in Chase Hall Lounge, 56 Campus Ave.
"Gamelan" refers to a broad genre of traditional Indonesian music played primarily on percussion instruments. Barbara Byers, an interdisciplinary major in music and dance from Elkins, W.Va., composed and will dance a piece titled "Monkey" that's included on the program. Byers studied various traditional performance disciplines, including gamelan, while in Indonesia last summer on a Phillips Fellowship from Bates.
The concert is open to the public at no cost. For more information, please contact 207-786-6135 or olinarts@bates.edu.
The program comprises a variety of instrumental and vocal music, including a contemporary arrangement of a traditional lullaby. Also included is a solo masked dance that originates in Cirebon, a city on the north coast of West Java, and portrays a character from the Hindu epic "Ramayana."
Assistant Professor of Music Gina Fatone directs the Bates College Gamelan Orchestra. The ensemble is composed of students and faculty members Carol Dilley, associate professor of dance, and Jennifer Woodruff, visiting assistant professor of music. The concert will also feature the vocals of a Bates alumna, Lisa McClellan '09.
Bates College has gamelan instruments from Central Java and West Java, Indonesia. The instrument set named Gamelan Mawar Mekar ("Blossom of Inspiration"), acquired by the College in 2001, is composed of iron and brass pieces and was made in Central Java in 1997.
A smaller bronze chamber ensemble from West Java, of a type called gamelan degung, was donated to the college in 2007. The concert will feature both sets.
In addition to its public performances, the orchestra makes a distinctive contribution to ceremonial events at Bates and is increasingly integrated into the arts and cultural curriculum.
View Comments