Connections: They're All Set
The 1989 volleyball team's Homecoming reunion typifies a distinctive brand of alumni programming
Before we explain the retooling of Bates Homecoming, here's a brief history of the fall alumni weekend.
In 1920, the redoubtable Harry W. Rowe, Class of 1912, was secretary of the Alumni Council when he invited alumni to spend an October weekend back on campus. He dubbed it "Back to Bates," plucking the strings of nostalgia.
"Why not grow young once more in contact with the undergraduates?" he wrote in his invitation. "Can't you in memory hear the cheering as the team comes over from the Gym of ancient and noble lineage?"
"The team" he refers to is the football squad, a big reason that Bates and other schools created homecoming weekends in the early 1900s: to put fans in the stands for big football games.
Ninety years later, this sport-centered model continues to thrive. NESCAC sports remain central to the weekend's fun, with the Friends of Bates Athletics helping to amplify the Bobcat zeal.
In other ways, however, the weekend's programming has been retooled, with greater emphasis now placed on "affinity events" that reconnect groups of alumni around their specific Bates interests and experiences.
In 2008, the weekend now simply known as Homecoming featured "Faces of Bates Across the Decades," exploring the experiences of the College's international alumni and alumni of color. In addition, the Merimanders held a 50th-anniversary reunion.
This year, the College welcomed back alums from one of the greatest Bobcat teams: the 1989 volleyball squad that went 36–0 and advanced as far as a team could go in that restrictive NESCAC era, winning the Eastern College Athletic Conference North title.
"After doing your own thing for 20 years, it's really nice to revitalize Bates friendships."
Julie Roche Simplicio '91 of West Hartford, Conn., sums up the experience of reconnecting with each other and their coach, Marsha Graef: "Special," she says. "I hadn't seen some of them in 20 years but it was like our conversations picked up where we left off."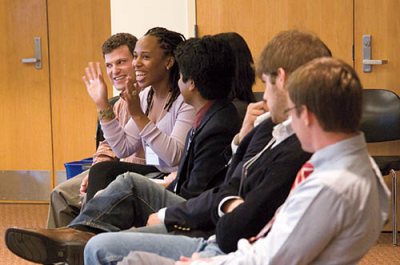 All-American Rachel Clayton '90 of Somerville, Mass., says the reunion came when she was feeling receptive about seeing old Bates friends. "After doing your own thing for 20 years, it's really nice to revitalize Bates friendships," she says. It wasn't a bad ego boost, either. "I had sort of forgotten how successful we were!"
The friendships that grew on that team were tempered with the right stuff, adds Clayton. "You share success and failure together. You mature, and you do it together."
Also this year, Bates Outing Club alums worked with current BOC leaders on their 90th-anniversary event slated for 2010, and the Multicultural Center sponsored a range of alum-focused events throughout the weekend, including an art exhibit reception for NaKeisha Gumbs '07 and Tonya Taylor '02 and a panel discussion, "Choosing the Scholarly Life."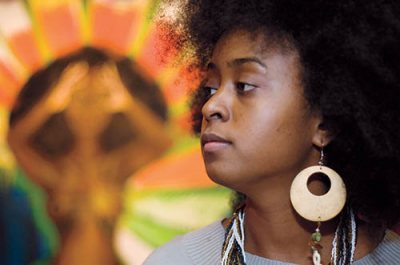 "By connecting people to the College through their affinities, we hope to send the message that even as Bates changes, it stays the same — it even gets better!" says Kimberly Hokanson, director of Alumni and Parent Programs.
What hasn't changed from Harry Rowe's original vision of Back to Bates is showcasing the campus in action.
Says Hokanson, "Affinity gatherings are about alums reconnecting with one another. But they are also about celebrating the strength of attachment with students involved in that activity today."
Cat Meoni Ringling '90, a co-captain of the '89 team with Michele Feroah '90, met the current volleyball team at Homecoming. "I enjoyed it," she says. "It was a chance for them to see that the bonds that they are building these four years will last at least 20!"
The only thing missing in 2008 was what Harry Rowe promised would happen in 1920 if Bates won its football game. A victory, he wrote, would bring great celebration: "a snake dance, red fire, and a blaze on Mount David."
For more information about affinity events, contact Alumni and Parent Programs.
View Comments