Kara Leasure '12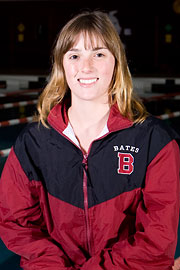 Bates first-year swimmer Kara Leasure (Los Alamos, N.M.) notched three personal-best times in three quite different events, and won all three of those events at last Saturday's dual meet at Colby.
Leasure swam the 1,000-yard freestyle in 10:50.54, the 100 breaststroke in 1:10.68 and the 500 free in 5:17.61.
"All were done with more heart than ever expected," said Bates head coach Peter Casares. "She not only showed the conference that she is one of the best, but she taught both the coaching staff and team what true determination looks like."
Leasure and the Bobcats host their second home meet of the season this Saturday at 1 p.m., with Wheaton College and NESCAC rival Tufts University visiting Tarbell Pool.
View Comments