Katelyn Drake '10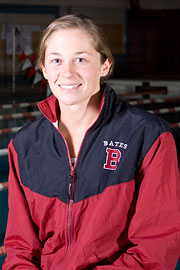 Bates College junior Katelyn Drake set the pool record in the 200-yard backstroke during the Bobcat swimming and diving team's tri-meet against Tufts and Wheaton last Saturday, with a time of 2:09.55, smashing the former mark of 2:11.15 set by Wesleyan in 1993.
Drake (Hudson, Ohio), a team captain and one-time All-American, also won the 200-yard individual medley in a lifetime-best time of 2:15.34.
It was the second pool record Drake has had a hand in breaking in two weeks. Two weeks ago against Bowdoin, Bates set the pool record in the 400-yard medley relay with a time of 4:06.27. In on the performance were Drake, first-year Kara Leasure (Los Alamos, N.M.), first-year Emily Tato (Chatham, N.J.) and sophomore Charlotte Green (New Canaan, Conn.). The previous mark of 4:07.57 was established in 2002 by Bates alumnae Megan Simmons, Megan Ferrari, Vanessa Williamson and Nicole Sparks.
View Comments