Bates sophomore named National Swimmer of the Week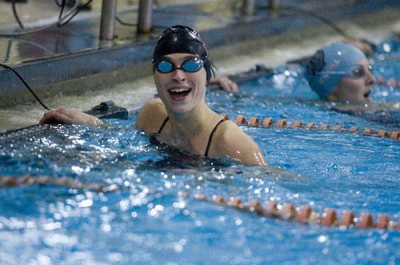 Bates sophomore Charlotte Green was named Division III Women's National Swimmer of the Week today by CollegeSwimming.com, the leading swimming Web site in the country. It is the first time a Bates swimmer has claimed the prestigious award.
The Web site singled out Green (New Canaan, Conn.) for her singular performances at last weekend's tri-meet with Connecticut College and Wellesley College at Tarbell Pool, where she broke four pool records and set two school records. Her time of 51.58 seconds in the 100-yard freestyle was the third fastest in the country at the time, and automatically qualified her for her first trip to the NCAA Division III Championships, to be held at the University of Minnesota in March. Green also led off the 200 free relay in 24.26 seconds, another school record, personal best, and a national "B" cut time.
According to head coach Peter Casares, Green was mentioned first in the Web site's article because out of all the winners of the National Swimmer of the Week award for Feb. 2-8 (i.e., males and females from all three NCAA divisions), hers was deemed the most impressive of all.
Green's honor comes on the heels of junior teammate Katelyn Drake (Hudson, Ohio) claiming the NESCAC Women's Swimming and Diving Performer of the Week award for the very same week.
See Green and the other National Swimmers of the Week at this link.
View Comments