Sylvan Ellefson '09 trusts the Bates food chain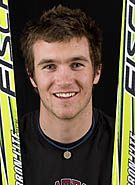 While Sylvan Ellefson '09 hasn't banished sweets or Commons crispitos from his diet, he has honed an understanding of what his body needs to perform at peak level.
"I was definitely not conscious of eating a balanced diet my first year here," says Ellefson, a Nordic skier from Vail, Colo., who won All-America honors at last year's NCAA Skiing Championships. "But in the past two years I've really realized what it means."
With the Bobcats hosting the 2009 NCAA Championships, March 11–14, and with Bates in the midst of its yearlong focus on food, Ellefson and his teammates have ample reason to make Bates Dining Services an honorary member of their team.
"Commons does a great job of providing us with the food we need for how we train," Ellefson says.
For example, when the Nordic team travels during carnival season, their van carries Commons-provided snacks like granola, breads, fruits and yogurt for immediate post-race nutrition. "Your body recovers more quickly if you get food right after a race," explains Nordic teammate Sam Evans-Brown '09.
When it comes to establishing healthy food routines, the teammates support each other, says head coach Becky Flynn Woods '89. "It's about getting into the right habit. For example, the skiers racing later in the day will take time in the morning to prepare food, like PB&Js, for everyone to eat right after the races."
Nordic skier and teammate Nicole Ritchie '09, twice an All-American rower as well as a skier, has become conscious of her food choices for another reason. "A friend is doing a thesis that focuses on corn syrup," she says. "I've been reading over her shoulder. The amount of energy going into producing corn syrup is pretty disgusting."
View Comments