History professor Hall receives Kroepsch Award for teaching excellence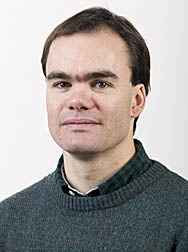 Associate Professor of History Joseph Hall Jr., a member of the Bates College faculty since 2002, has received the college's 2009 Kroepsch Award for Excellence in Teaching.
In conjunction with this honor, Hall gives a talk titled "How Maine Was Discovered" at 4:30 p.m. Wednesday, Feb. 25, in the Edmund S. Muskie Archives, 70 Campus Ave.
Co-sponsored by the Kroepsch Award Selection Committee, the college division chairs, Information and Library Services and the Dean of the Faculty's Office, the event is open to the public at no cost.
Hall's history courses examine Native Americans, the Colonial and Revolutionary eras, and American history from an environmental perspective.
Kroepsch recipients are chosen by past and present Bates students. In nominating him, Hall's students praised his dedication to and grasp of his subject matter, his ability to engage students with the material and his rigorous expectations of such engagement.
"One of his favorite questions is 'So what?' " said one student. "This simple question never receives a simple answer as it commands students to place their comments and perspectives into a broader context."
"As my many conversations about history have made clear," Hall writes on the Bates Web site, "history does not afflict everyone similarly, but at the very least, I hope that what I have to say about it encourages people to think carefully about where they are."
Hall received his bachelor's degree at Amherst College and his doctorate at the University of Wisconsin–Madison. His research focuses on American Indians in the early colonial Southeast.
The late Robert H. Kroepsch established in 1985 the Ruth M. and Robert H. Kroepsch Endowed Fund for an award to a member of the faculty, "in recognition of outstanding performance as a teacher during the previous 12-month period."
The honor, which carries a $5,000 award, recognizes a faculty member's ability to stimulate student interest in the subject, foster desire for further learning, help students understand subject matter in a broad context and encourage a high level of student performance, among other criteria.
View Comments