Video: Dick Gregory and the 'end of recess'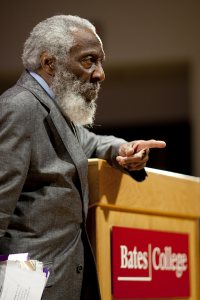 Dick Gregory, the African American comedian who transcended show-business success to become a prominent activist for social justice and civil rights, performed to a full house in the Olin Arts Center Concert Hall on May 23.
The next morning, Gregory participated in a course on the 1960s Student Nonviolent Coordinating Committee, taught by Multifaith Chaplain Bill Blaine-Wallace.
Gregory's visit was also of interest to the history department's methods course, this year centered on the turbulent 1960s and team-taught by African American Studies Chair Hilmar Jensen — who extended the invitation to Gregory — and Professor of History Margaret Creighton.
This short video focuses on Gregory 's visit to Blaine-Wallace's SNCC class in Hathorn Hall, in which he expounds on a pointed social and educational observation he made the night before: "Recess is over."
Gregory's visit was co-sponsored by the Program in African American Studies and the Multifaith Chaplaincy.
He first appeared at Bates in 1968. He shares another Bates connection: Dr. Benjamin Mays '20 presided over the renewal of Gregory's wedding vows with his wife, Lillian.
View Comments