Athletics' passionate friends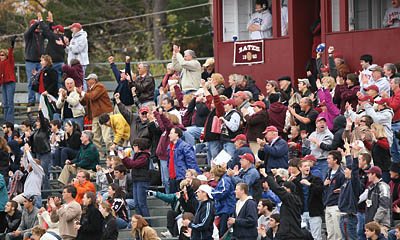 "It's a great day…to give to a Bobcat!"
That might well be the cheer of the Friends of Bates Athletics, a new initiative aimed at allowing alumni, parents, and friends of the College to — in the words of Director of Athletics Kevin McHugh — "give to what they're passionate about."
After only one year of existence, fundraising by the FBA has already had a measurable impact on athletics at Bates, where about 53 percent of students participate in varsity or club sports:
The football program's annual golf tournament, for example, raised money to purchase new scouting software and helped to defray the cost of weight- room renovations.
Gifts to the women's basketball program sent the team to the South Padre Island Shootout in Texas.
Gifts to the Bates rowing team helped purchase a new boat.
Traditionally, college advancement offices nationally have been reluctant to sanction institutionalized athletic fundraising for fear that it would siphon gifts away from annual fund drives. The new thinking, however, is that athletic fundraising can both supplement annual fund giving (such as through the Bates Fund) and also get grads, parents, and friends of a college into the habit of philanthropy.
These days, almost all schools in Bates' New England Small College Athletic Conference conduct sports-related fundraising.
"There is a great deal of passion for Bates athletics," says Kelly Kerner, vice president for College advancement. "There are a lot of alums and parents whose connection to the College is rooted in an athletic experience. We're providing an avenue for people to give to what they are passionate about."
The FBA's initial fundraising year, which ended June 30, 2008, yielded $221,228, with all 31 varsity teams and 12 club sports benefiting from FBA gifts. Football, with its greater numbers and established golf tournament, led the way by raising $42,000, but club sports such as sailing ($17,000) and women's hockey ($6,000) also did remarkably well.
"And we've only scratched the surface," McHugh says of the Friends of Bates Athletics potential.
Trustee Bruce Stangle '70, chair of the Friends of Bates Athletics Council, played varsity golf, club hockey, and a variety of intramural sports at Bates, so he well understands the central role of sports in campus life.
"At Bates, the culture being what it is — no sororities, no fraternities — athletics are a big part of how friendships are formed and lifelong associations are created," says Stangle. "We found a pent-up demand among alums asking, 'How can I connect to an important part of my Bates experience?'"
In that sense, the FBA also focuses on "friendraising," sponsoring receptions and other gatherings such as golf tournaments, a recent baseball reunion, and receptions during the College-hosted NCAA Skiing Championships in March.
"The FBA is about engaging and re-engaging with Bates people," says McHugh. "We hope it leads to financial support, but it is equally important to bring people together around Bates athletics."
Nate Kellogg '09, a co-captain of both soccer and lacrosse, is one Bates student-athlete keenly aware of what team alums can do for a team. "Last year, a lacrosse alum made an incredible gift that had an immediate impact," Kellogg recalls. "He gave enough money so every reserve player could travel to our Connecticut College game."
So does Kellogg plan to become a Friend of Bates Athletics?
"Absolutely. No question," he enthuses. "There's been a lot of good leadership ahead of me and they've set the trend of giving back."
A distinguishing feature of FBA fundraising is that the money is not budget relief — it's additional funding for key initiatives, such as spring trips or new equipment. Head men's lacrosse coach Peter Lasagna explains how he got new helmets for his team. "Aaron Sells '01, the captain of my first Bates team, made the lead gift," he says. "It was amazing: He called me and said, 'I want to do this.' A week later, 46 helmets arrived." Total cost: $5,000-plus.
But it's not just Bates alumni, parents, and friends who do the heavy lifting when it comes to athletics support. Across the board, varsity and club-sport athletes run their own fundraising programs, from clinics for local high school students to the rowing team's innovative "rent-a-rower" odd-job service.
Wayne Zimmerman, director of Bates advancement services, hired the rowers to move a kit car he's building into a garage.
The service surprised him twice. "I didn't know the athletes did things like this to raise money," he says, "and I didn't expect them to do it this well. But as you would expect from rowers: They were really in sync."
By Edgar Allen Beem
Freelance writer Edgar Allen Beem wrote about biologist Will Ambrose's clam- and climate-related research in the Spring 2008 issue.
View Comments