Cultural activists from South America to speak at Bates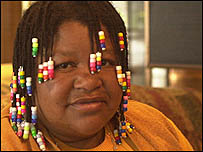 Marfa Inofuentes and Rosana Silva Chagas, cultural activists from Bolivia and Brazil, speak at Bates College at 4:15 p.m. Monday, March 23, in the Benjamin Mays Center, 95 Russell St.
The event is co-sponsored by the Caribbean Cultural Center African Diaspora Institute and the Arturo Schomburg Afro-Latino Speaker Series, a program of the Bates Office of Multicultural Affairs. It is open to the public at no cost. For more information, please call 207-786-8376.
Inofuentes is president of Bolivia's Afro-Bolivian Cultural Movement. She has been integral to the creation of the cultural movement Saya Afroboliviano, which aims to recover and re-evaluate Afro-Bolivian culture, and is a noted advocate for the establishment of Afro-Bolivian heritage centers.
In Bolivia, there are more than 25,000 surviving descendants of some half a million slaves brought from central Africa to work in Bolivian mines. Inofuentes works with this largely forgotten community. Racial prejudice still abounds in Bolivia, where even now, Afro-Bolivians remain on the sidelines of political power.
Chagas works on issues of concern to the Afro descendant majority in Brazil. She has worked with organizations such as the Steve Biko Cultural Institute in Brazil and the Your World Consultant Group Educational Foundation. She organizes within densely populated, crime-ridden communities to provide residents basic social services.
The Office of the United Nations High Commissioner for Refugees estimates that between 65 million and 120 million Brazilians are of African ancestry, descended people brought to Brazil as slaves. While some Afro-Brazilians see racism as primarily a cultural problem, others believe the struggle against racism must seek to change economic, social and political structures. The Afro-Brazilian movement has contributed significantly to policy changes in all these areas to improve the quality of life for black Brazilians.
The Arturo Schomburg Afro-Latino Speaker Series at Bates highlights contemporary Afro-Latin scholars and artists who focus on topics including identity, politics, culture, literature and history. The series honors Arturo Alfonso Schomburg, a prominent Puerto Rican historian, writer and activist of the early 20th century.
View Comments